Broadly, for visits to the UK from 1 January 2021, for less than six months, no visa will be needed (for EU or EEA nationals) if you are coming to the UK as a visitor for the purposes of General Business Activities or Intra-corporate Activities. Different rules apply to Irish nationals.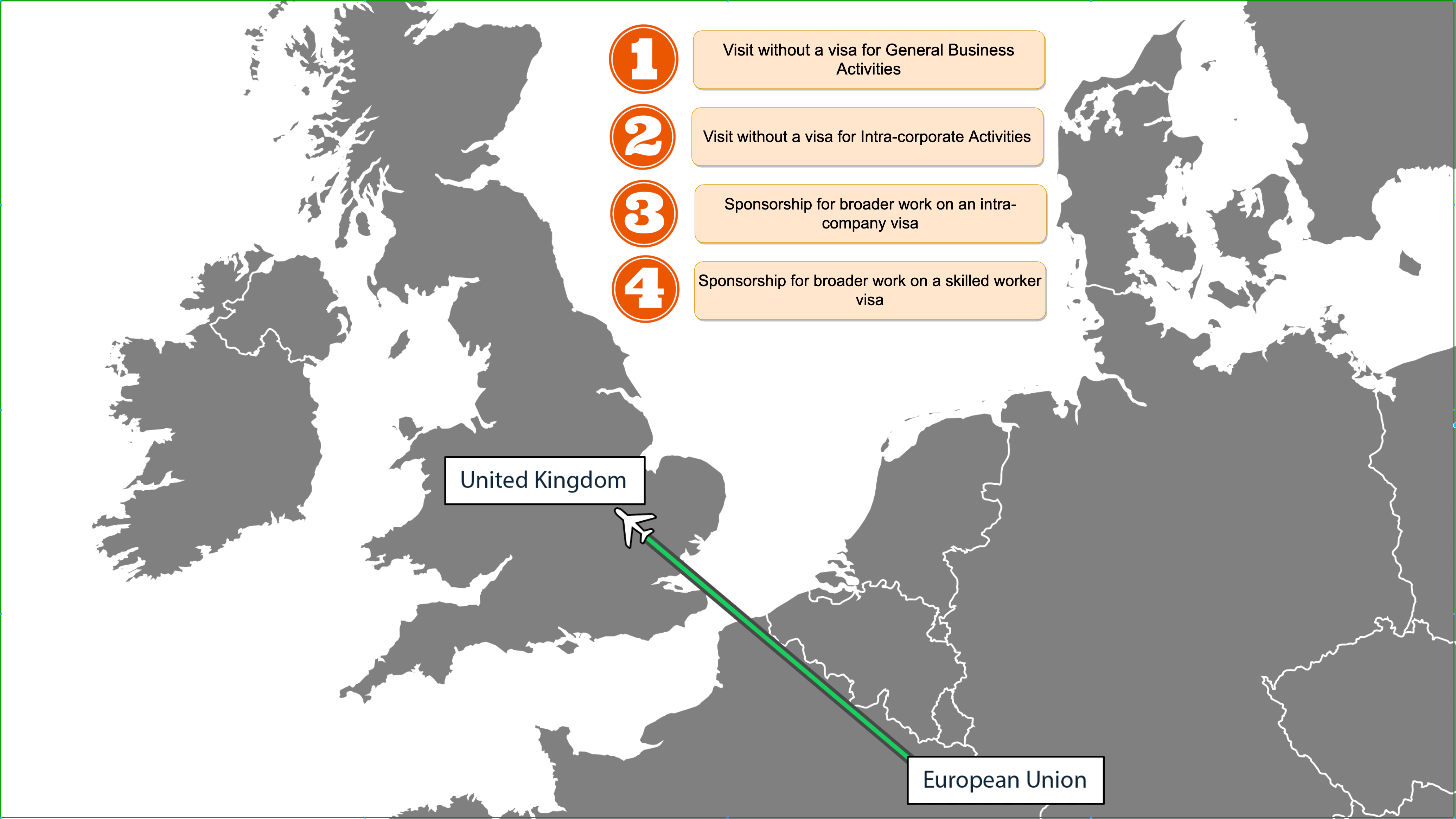 Visit without a visa for General Business Activities
A visitor may:

(a) attend meetings, conferences, seminars, interviews; and
(b) give a one-off or short series of talks and speeches provided these are not organised as commercial events and will not make a profit for the organiser; and
(c) negotiate and sign deals and contracts; and
(d) attend trade fairs, for promotional work only, provided the visitor is not directly selling; and
(e) carry out site visits and inspections; and
(f) gather information for their employment overseas; and
(g) be briefed on the requirements of a UK based customer, provided any work for the customer is done outside of the UK.
Visit without a visa for Intra-corporate Activities
An employee of an overseas based company may:

(a) advise and consult; and
(b) trouble-shoot; and
(c) provide training; and
(d) share skills and knowledge;
…. on a specific internal project with UK employees of the same corporate group, provided no work is carried out directly with clients. An internal auditor may carry out regulatory or financial audits at a UK branch of the same group of companies as the visitor's employer overseas.
Subject to some limited exceptions, visitors cannot otherwise work in the UK unless they apply for a visa. This in most cases will be a skilled worker visa or an intra-company visa.
Sponsorship for broader work on an intra-company visa
This requires sponsorship by a UK entity, for which the sponsoring entity would need a sponsor licence. This can take up to 8 weeks to secure, and the visa processing could take a further two weeks. Once the licence was secured, you could be sponsored. Assuming that you would remain engaged by the foreign entity, you could be sponsored on an Intra-Company Transfer visa. This route is for established workers who are being transferred by the business they work for to do a skilled role in the UK. You need to show you have worked for your employer overseas for more than 12 months but this is not required if earning over £73,900.
Sponsorship for broader work on a skilled worker visa
A Skilled Worker visa allows you to come to or stay in the UK to do an eligible job with an approved employer. This would mean being employed by one of the UK entities in your corporate group, rather than by a foreign entity.
If the stay in the UK is to be more than six months, then you will not be able to rely on the first two options (visit without a visa for General Business Activities or for Intra-corporate Activities). It would likely need to be either of the other options (sponsorship for broader work on an intra-company visa or as a skilled worker).
There are some other potential options (for visa and non-visa routes) but these are likely to be the most popular ones.