In this video, I provide 3 tips on the Global Talent Visa.
I have done many successful Global Talent applications this year. It's my favourite UK visa. It gives the greatest freedom to my clients to do what they want to do in the UK. The pathway to ILR is also much more straight forward than most other visa pathways.
So here are some advanced tips if you are considering applying.
My first tip is about (1) borderline applications. Some Global Talent applications to Tech Nation are borderline between exceptional talent and exceptional promise. Bear in mind that there are cases where people apply for 'talent', but are granted 'promise'. Even more interestingly, there are cases where people apply for 'promise' and get 'talent'. If you are in this situation:
Don't be put off applying for 'promise' if you are in your 30s, or even in your 40s. The 5 years of experience required could be experience:
In a second career. So you were doing something entirely different and only got into digital technology within the last 5 years;

Only very recently. So, very recent experience. If the qualifying experience in the tech sector was in the last 5 years, but you were doing other non-qualifying work before that within the tech sector, say, work that was not for a digital product based business, then you still may qualify.
My second tip is about (2) switching to Global Talent from the innovator category or skilled worker category. If you are on the innovator visa and you have built a digital product, have a serious look at applying. Some of my clients don't qualify for Global Talent before their innovator visa term, but do qualify after their innovator visa term (or mid-way through). In some cases, it is easier to switch from innovator to Global Talent (and then apply for ILR), than it is to stay in the innovator visa category and meet the success criteria for ILR. Remember that the time on the innovator visa counts towards ILR on the Global Talent visa, if you switch. As for the Skilled Worker visa, again, the time spent on it counts towards ILR on the Global Talent visa. You have a lot more freedom on the Global Talent visa than you do restrained by a job role and sponsor on the Skilled Worker visa. In a recent case, I switched a client onto the Global Talent visa and then we applied just weeks afterwards for ILR, because his previous leave counted towards ILR.
My third tip is about (3) how frame your application under the Global Talent visa. I have clients who do not necessarily fall under the classic combination of optional criteria 1 and 3.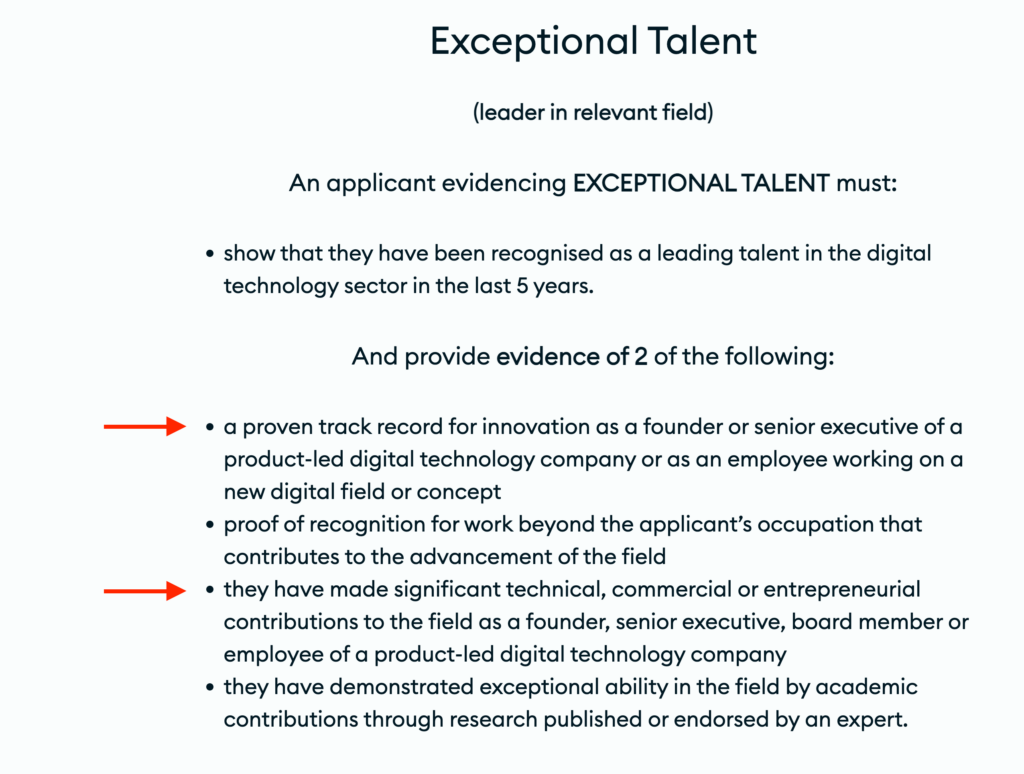 This is because they have been working in a contract capacity, and do not fall within the list of:

Founder
Senior Executive
Board Member
Employee
These are the specified designations. Sometimes people who have a foot in academia and a foot in business will fall outside of these categories. But sometimes their experience can equally well be classified under optional criteria 2 and 4: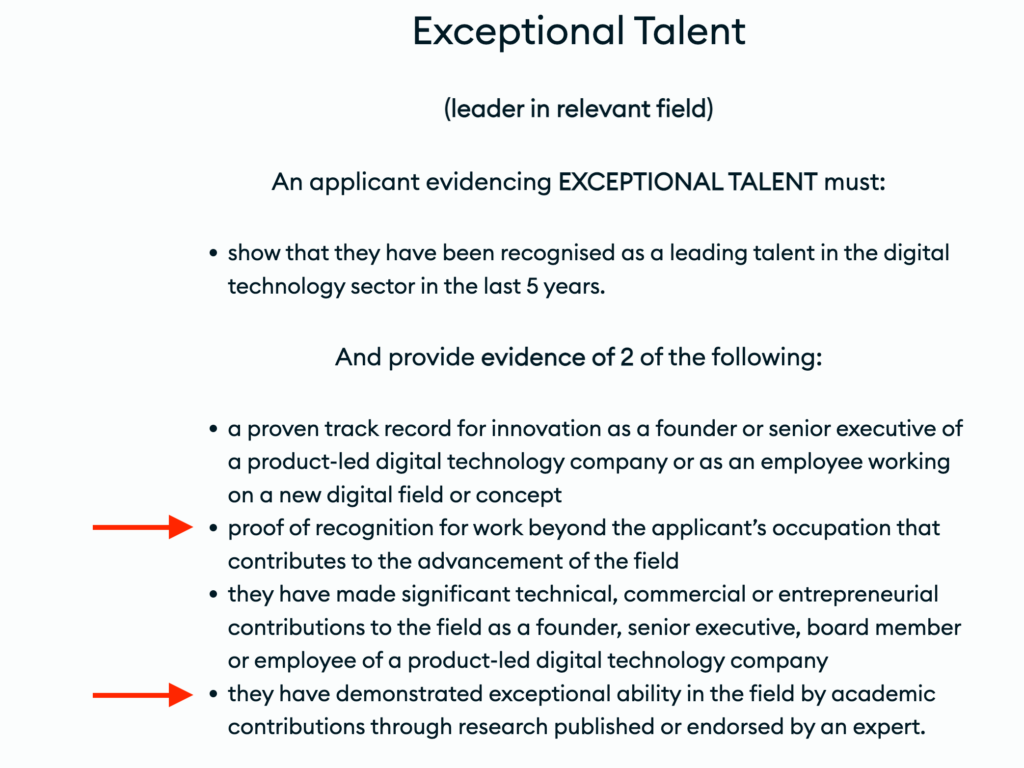 In other words, there are at least 2 academic papers that qualify (under criterion 4), and their contributions in business can be characterised as contributions beyond their occupation (in other words, beyond academia), which have advanced the field in some way.
Many people's experience in the digital technology sector does not qualify on the face of it because it is based on consultancy work, as opposed to digital product based experience. But I would usually look beyond that to see whether a digital platform has been used as an intermediary so that, in substance, the work was of a product nature (and there was a customer-facing element of the platform).
Every application is unique. I rarely have clients where the application is 'perfect', there is always some area of potential weakness or risk to be mitigated. A lot of applicants are modest and may under estimate their skills.