In this video, I explain why the Global Talent visa is better suited for teams than the Innovator visa.
It is possible to apply as a team on the innovator visa, but as you may know from my previous videos, I do not generally recommend it. So it's generally best on the innovator visa to have 1 person, 1 business. By contrast, with the Global Talent visa, the position is much more straight forward.
The main points with innovator visa teams are:
The Home Office finds it harder to know who the "controlling mind" is. So if you are co-founders, or especially if you are joining an existing business, the Home Office needs to be satisfied that it is YOUR business idea. If there is more than one person, then whose business idea is it? And who is actually running things? I have highlighted before that it is not permissible to "piggy back" off someone else's business idea. So if you are going ahead on the basis of an innovator team, then you need to account for the genesis of the idea, and then work out an appropriate division of labour, let's say between sales and technical development (which is typical for some of my clients). And then you need to plan ahead to see how you will meet the criteria. So the success criteria are multipled by the number of innovators associated with the business.

So the more people you have, the more difficult it is to achieve settlement (so, indefinite leave to remain). Let's look at the position with two people:

And it gets even more challenging with 3 innovators in the team (again, it is multiplying each time. So, with three people:

Now with the Global Talent visa, you do not need to satisfy any such criteria. Each co-founder, let's say, secures his own endorsement, but, unlike with the innovator visa, you do not need a further endorsement at the end of the three year term. So no need for the further endorsement.
This is particularly relevant now in light of the face that the innovator endorsing bodies are in the process of being cut down from their current numbers (there are presently dozens), to what is likely to be two or three. So the vast majority of the current endorsing bodies will likely not be endorsing after October this year. I have talked in previous videos about the re-tendering exercise that the government is conducting, as shown in its advertised tender: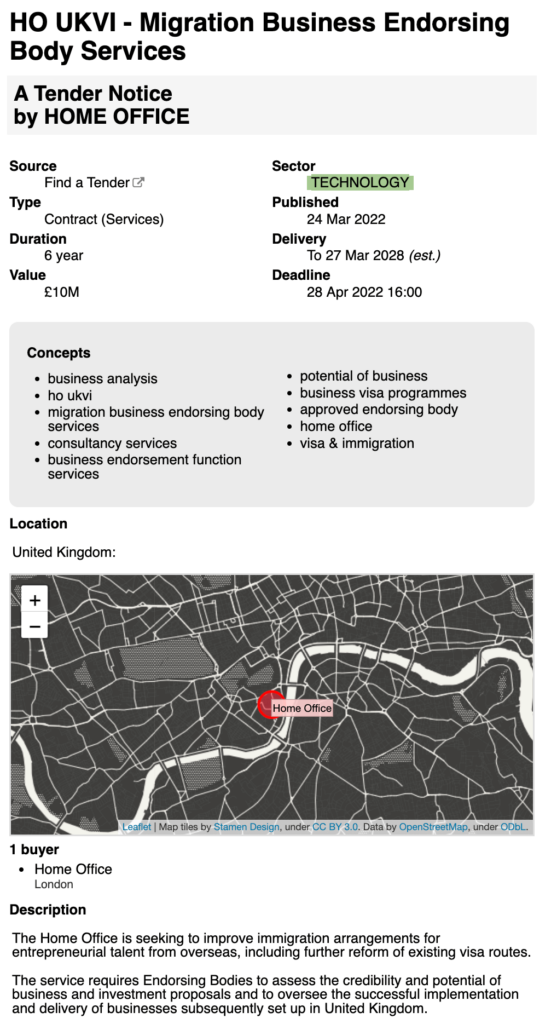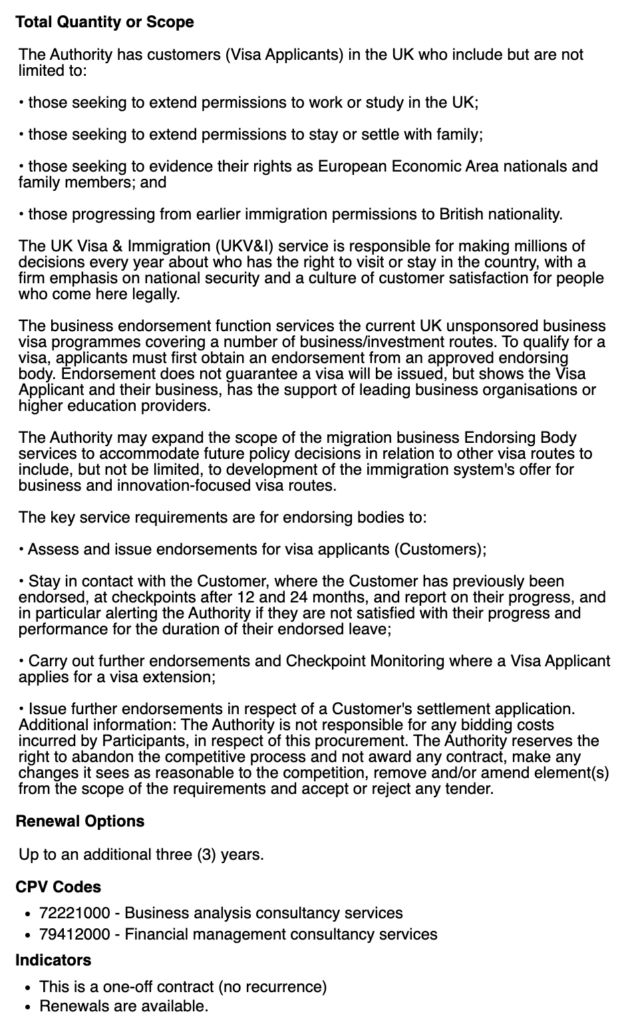 This means that if you are to be endorsed now, or if you have been endorsed and you are coming up for endorsement for ILR after October 2022, then you would likely be making the ILR endorsement application to a different endorsing body than your current endorsing body. I would add that the position with 'soon to be legacy' endorsing bodies is yet to be confirmed, and I'll do an update as soon as it is. If you need to apply to a different endorsing body for the ILR endorsement, then that is not necessarily a problem, BUT if you can have global talent instead, then you don't need to secure a further endorsement at all.
The beauty of the Global Talent visa is that there are barely any conditions for ILR. You only need to show that you have earned money in your field of expertise, and the video I did a few days ago did a walkthrough of how you can do this on the so-called SET-O form. You can do pretty much anything on that visa and you are beholden to pretty much no-one.
All it asks you is: "Have you earned money in your specialist field in your most recent period of leave on this route?"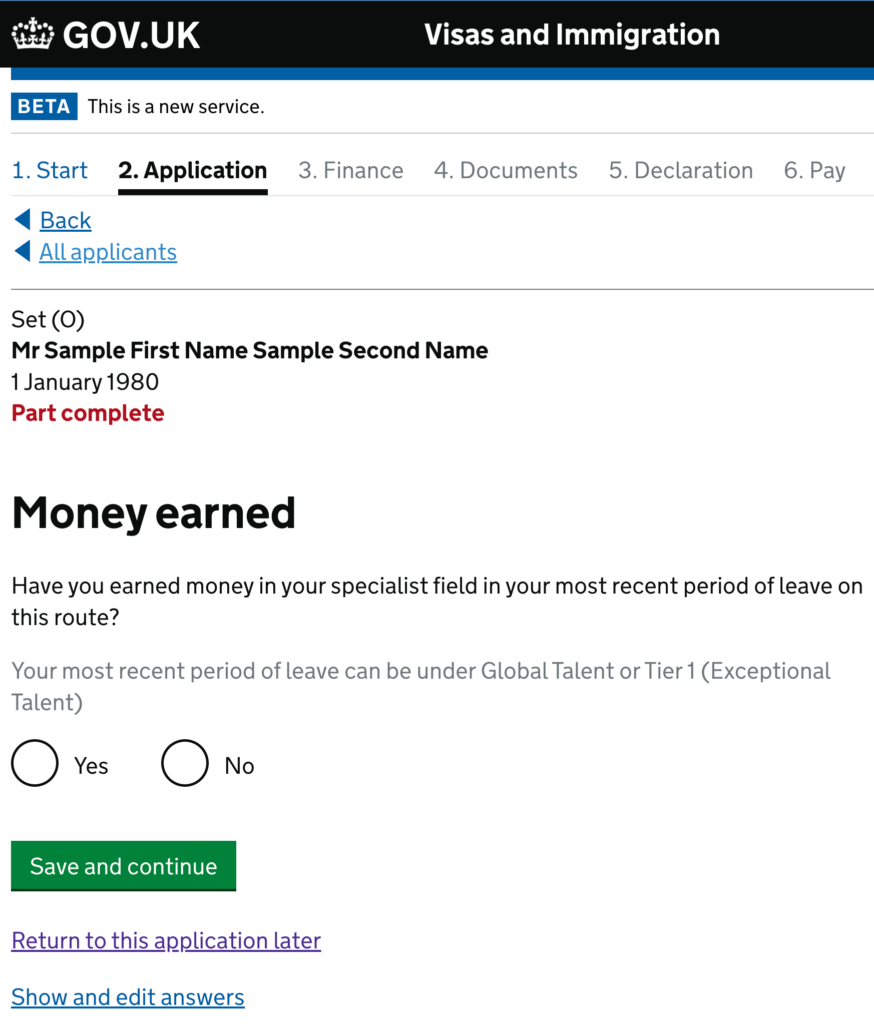 That's the only criterion for ILR, leaving aside the residency and other standard requirements.
Now the process for applying as a team is not a specific sub-category of the Global Talent visa. There is no joint endorsement, it is just a case of a dual application by, say, the two co-founders.
The only thing that is common to the innovator team rules is that each co-founder should satisfy the criteria in his or her own right.
So, to put it in really clear terms, you cannot have a situation where one co-founder is saying: I built this, and the other co-founder is saying: I built this. The division of labour needs to be made clear. Again, one cannot really "piggy back" off the other. It may be the case that each has made a valid contribution to one result, but each separate contribution needs to be separately delineated, so it can be shown why each qualifies in his or her own right.
So if you are looking at forming an innovator team, or you are already an innovator team, have a serious look at achieving the same result, or a better result, on the Global Talent route. As I've highlighted before, any time you may have already spent on the innovator visa counts towards the 3 years to ILR on the Global Talent visa, as you can see from this rule: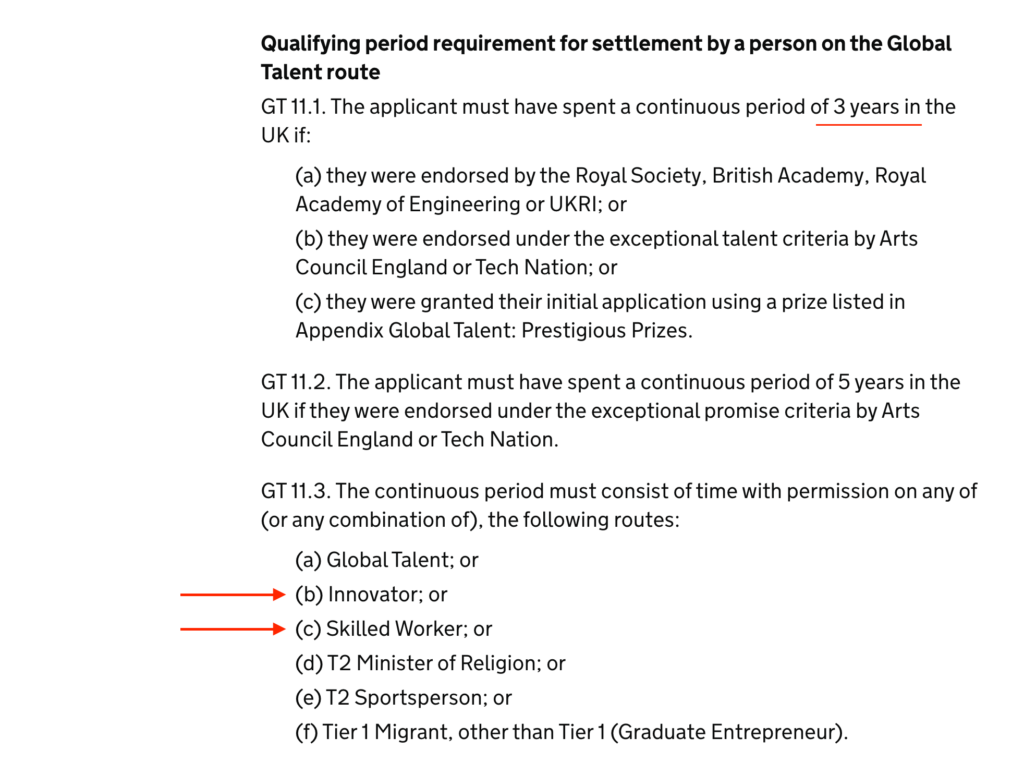 That meant that in my recent case, I was able to switch my client from qualifying leave under their visa and then do the Global Talent ILR application within a few weeks after the first Global Talent endorsement.