In this video, I explain how to get on to the Global Entrepreneur Programme.
Usually UK incubators either charge for a paid programme or office space, or take equity in your business, or both. But a good deal of my clients don't pay anything to their incubator. So, which are the free endorsing bodies? Well, there is the Universities, one of the medtech incubators
… and then there is the Global Entrepreneur Programme.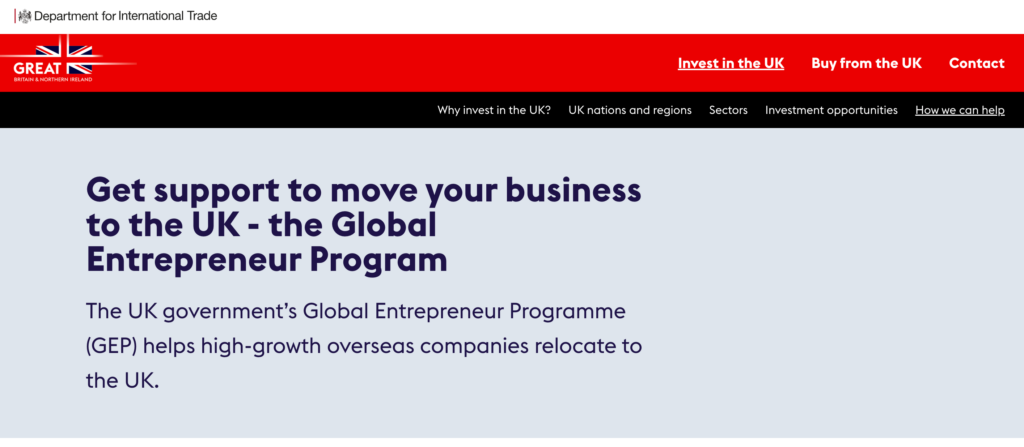 Now I do have several clients in the programme, but it is very hard to get into. You generally need 3 things:
A business plan;
An MVP (minimum viable prodcut);
At least some clients for market validation.
So in other words the other endorsing bodies in the main do not tend to require an MVP. The other 2 elements – business plan and validation – ought to be pre-requisites across the board.
The clients I have worked with who have been endorsed for the innovator visa under the Global Entrepreneur Programmeare generally established entrepreneurs.
The process of getting endorsed by them is a long process. But it may be worth it – not only because there is no charge under the programme (and they don't take equity, but they are also one of the highest regarded programmes from the point of view of the Home Office.
Now there is a time-limit on the programme. As I have covered in my previous videos, there has been a procurement process, whereby the endorsing bodies are due to be cut down from the dozens that currently operate, to only 2 or 3.
I suspect, may make it more difficult to qualify for the innovator visa.
These are the published details of the tender.
"The Home Office is seeking to improve immigration arrangements for entrepreneurial talent from overseas, including further reform of existing visa routes."
"The service requires Endorsing Bodies to assess the credibility and potential of businesses and investment proposals and to oversee the successful implementation and delivery of businesses subsequently set up in the United Kingdom".
The tender is for 3 years, and there is an option to renew for an additional three years.
As the quote says, the Home Office is already restricting the existing endorsing bodies' allocation of endorsement places, in anticipation of the outcome of the tender.
One of the endorsing bodies has published that it may be not until Spring 2023 that the new endorsing bodies come into place.
From what I have seen, there is more scope these new programmes only being paid programmes, and more scope for equity being required.
So, right now, you can be endorsed and join a programme at no cost, and with no sacrifice of equity, directly by central government itself, in the form of the Department for International Trade.
There is a process to go through, it involves contacting the so-called deal maker in the geographical area where you operate.