Can you reach the 10 year ILR point using just student visas and graduate visas?
I'm going to show you, using this diagram: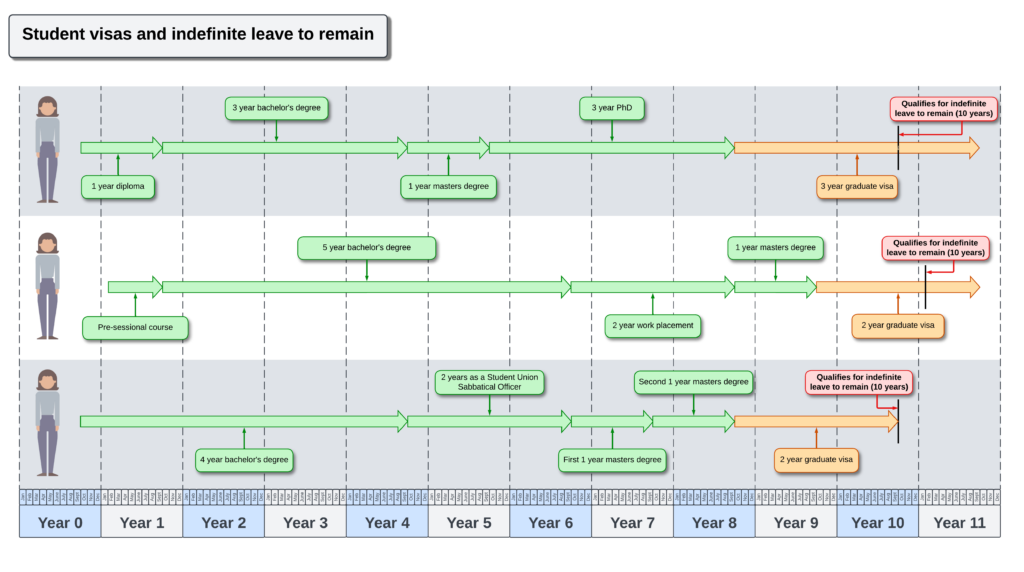 And this diagram: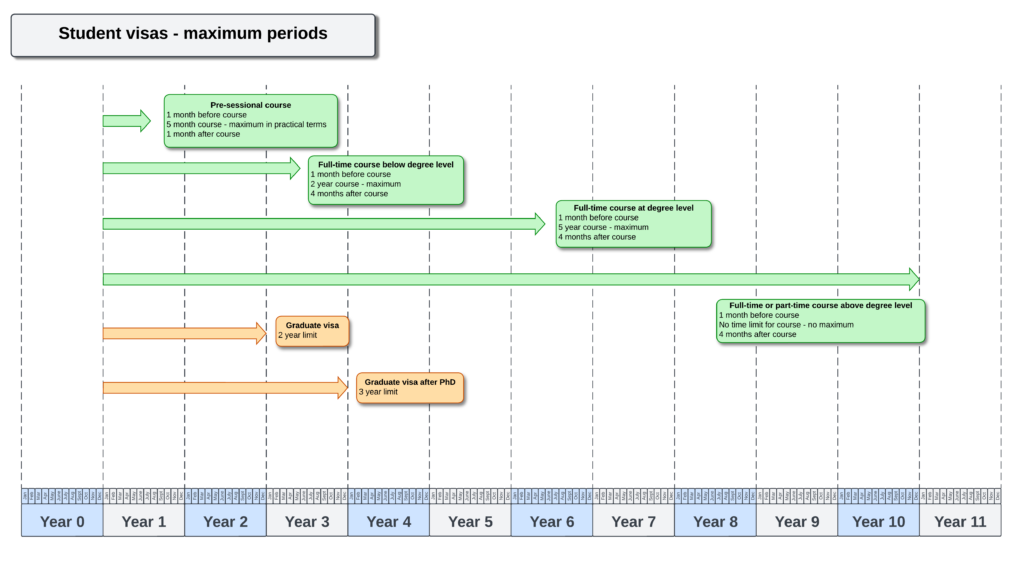 The starting point is that you cannot have more than one graduate visa:

So you cannot, say, do an undergraduate degree, then get the Graduate visa, then do a Masters degree, and then get a second Graduate visa.
So you can only use the Graduate visa once.
But you can be granted many Student visas back-to-back. This can be used to get you to the 10 year point, with or without the Graduate visa. There are limits for the different components within this period. These are shown in this diagram: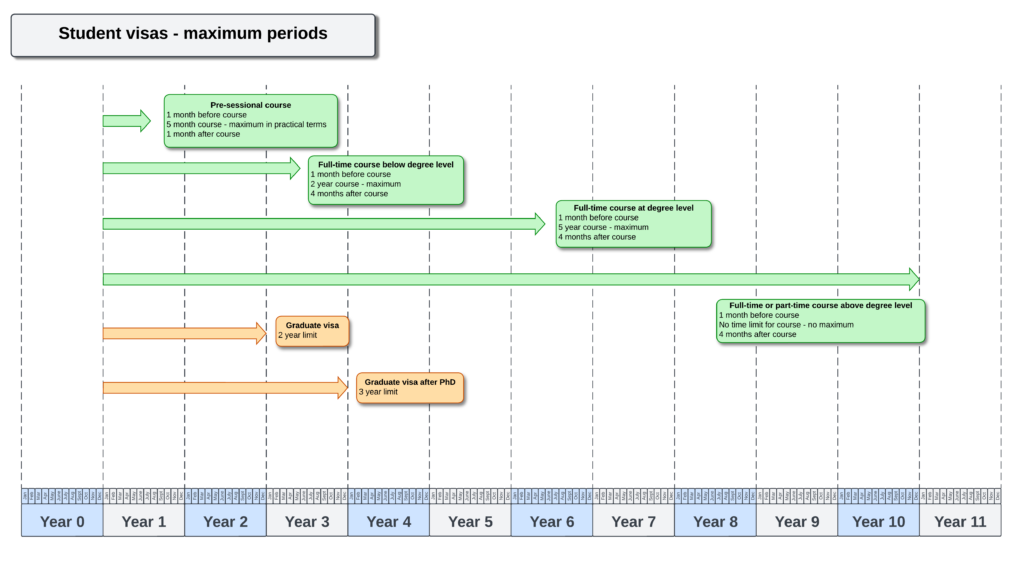 Pre-sessional course (courses seem to be for about 3 months)
Course must be less than 6 months (ST25.3) (check this)
Grant for 1 month before and 1 month afterwards
Min 15 hours per week of classroom-based daytime study (ST8.2(c))
Doesn't need to lead to an approved qualification
Applicant must show English language ability at B1 level
The course must be for English language at level B2 or above of the Common European Framework of Reference for Languages
Doesn't need to be on premises (ST11.1)
Full-time course below degree level
Max 2 years grant (ST19.1), unless coastguard course
Grant for 1 month before and 4 months after, if course is 12 months or longer
The course is at Regulated Qualifications Framework level 3 (for those 16-17) eg

A level
International Baccalaureate diploma
Music grades 6, 7 and 8
The course is at Regulated Qualifications Framework level 4 (for those 18 or over)
Level 4 qualifications are:

certificate of higher education (CertHE)
higher apprenticeship
higher national certificate (HNC)
level 4 award
level 4 certificate
level 4 diploma
level 4 NVQ

Min 15 hours per week of classroom-based daytime study (08:00 to 18:00, Monday to Friday)
Must lead to an approved qualification
Full-time course at degree level
Grant max 5 years, except architecture, dentistry, vet sci, music, law (uncapped)
Grant for 1 month before and 4 months after
Can be repeated – must have (1) successfully completed the course of study for which they were last granted permission (ST 14.1.) and (2) show academic progress (ST 14.2.) meaning:

it's degree level or above
the new course is also degree level or above
and the student sponsor confirms that the course relates to the previous course of study OR the old and new course support the applicant's genuine career aspirations.

No academic progress requirement or requirement to have completed the course where they are (ST14.4)

Doing a first or second re-sit of an exam
Continuing a PhD
Becoming a student sabbatical officer
Apply to stay as a foundation doctor or dentist
Applying to take a study abroad year or work placement as part of the course

Work placement no longer than ⅓ length of the course (below degree level) or ½ length of the course (degree level or above).
Full-time or part-time course above degree level
No time limit
No academic progress requirement if continuing a PhD
Student union sabbatical officer
Graduate visa – To work after graduation (except as a professional sportsperson)
Grant for 2 years or 3 years with a PhD – GR8.1
Applicant must have last had permission as a student
Course was a UK bachelor's degree or above, or a law conversion, LPC, BPC, foundation in medicine or dentistry, PGCE or PGDE.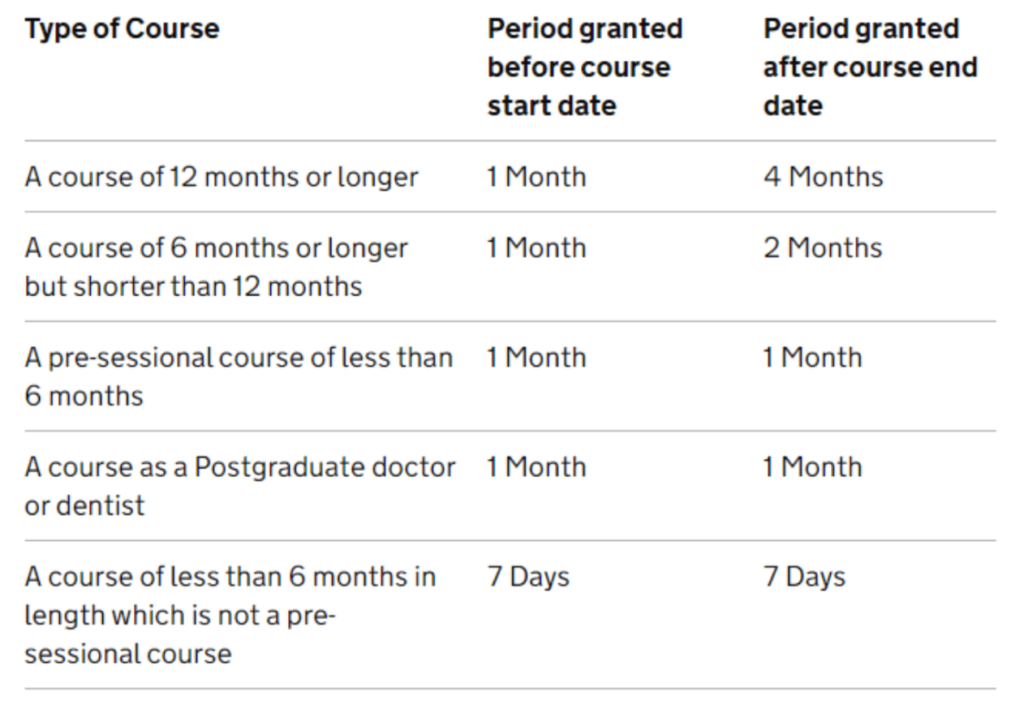 LIMITATIONS
ST 1.3. If the applicant has, in the last 12 months before the date of application, completed a course of studies in the UK for which they have been awarded a scholarship or sponsorship by a Government or international scholarship agency covering both fees and living costs for study in the UK, they must provide written consent in relation to the application from that Government or agency.
ST 1.4. An applicant who is in the UK on the date of application must not have, or have last been granted, permission:
(a) as a Visitor; or
(b) as a Short-term Student; or
(c) as a Parent of a Child Student; or
(d) as a Seasonal Worker; or
(e) as a Domestic Worker in a Private Household; or
(f) outside the Immigration Rules.
ST 1.5. The applicant must be at least 16 years old on the date of application.
ST 4.2. An application for permission to stay must be made no more than 3 months before the start date of the course on the Confirmation of Acceptance for Studies.