Introduction
In this article, I'm going to discuss the UK Global Talent Visa and how to apply for it. The Global Talent Visa has replaced the Exceptional Talent Visa and applications for the new visa which opened on the 20th February 2020. The UK government describes the visa as being for 'talented and promising individuals in the fields of science, digital technology and arts and culture wishing to work in the UK.'
As with the Global Talent Visa, there are two types: 'Talent' applicants who are "already leaders in their respective field" and "'promise' applicants" who "have shown the potential to become leaders in their field" – but more on that below.
While the number of Exceptional Talent visas was capped at 2000 per year, there are no limits on the number of applicants for the Global Talent visa. Moreover, UK Research and Innovation (UKRI) will take a major role in administering the new visa programme for researchers and specialists in an effort to encourage more top science talent to the UK.
Although new specific provisions have been made for the science and research sector, the Global Talent category is also open to applicants within the digital technology sector and arts and culture (including film and television, fashion design and architecture).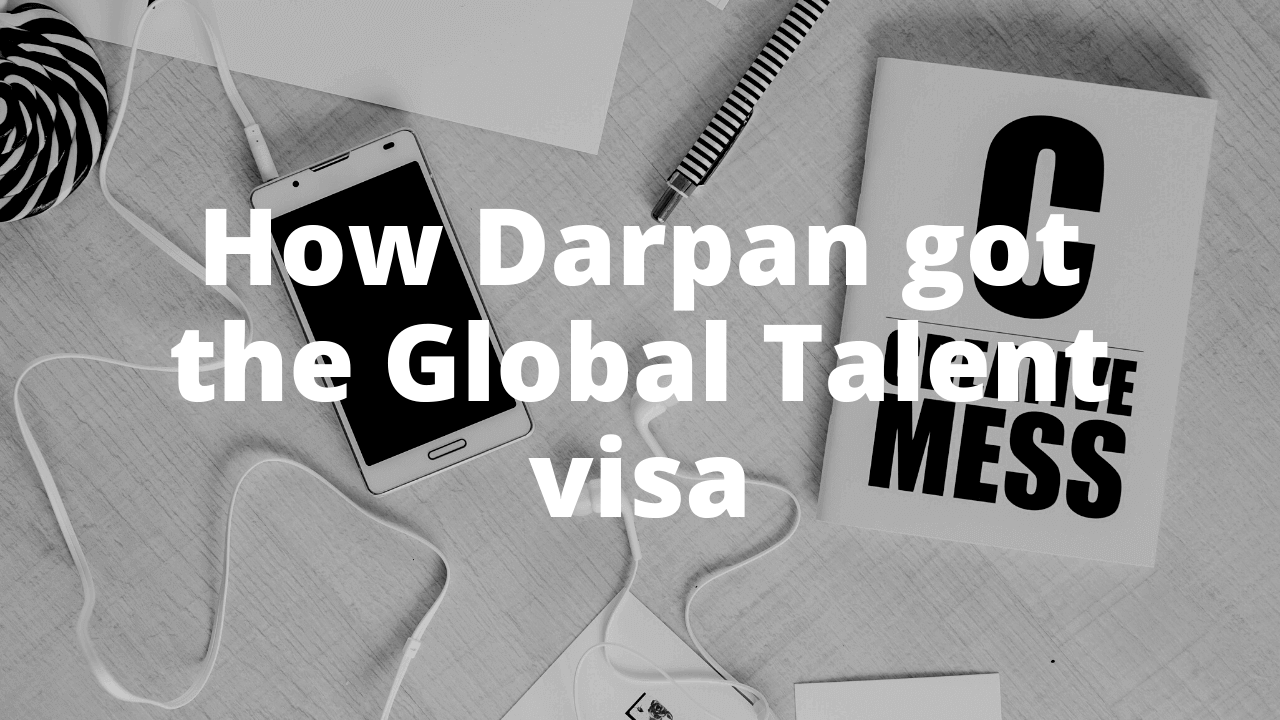 Below, you will find the video transcript which discusses this topic.
TOM: 
Hi there Darpan, could you please tell us your background?
DARPAN:
Hi, I'm Darpan. I'm from Mumbai, India and I have been working in the Tech industry for the past 9 years and I recently moved to the UK. 
TOM: 
Who have you been working within the industry in London? 
DARPAN: 
I've worked with commercial real estate and discovery company and before that, I worked with a successful SAS based company. I also started a start-up and worked as a CTO. 
TOM: 
Could you talk about your visa history in the UK
DARPAN: 
At first, I was on a spousal visa with my wife. Then I decided to have my company sponsor me because at the time I didn't know about the Global Talent visa. Later on, I was exploring different kindle companies I wanted to work with. I noticed that I was inclined to work with companies that were emerging start-ups. I discovered that the Global talent visa was better than the current sponsored visa I was on as I could work with these start-ups. 
TOM:
And did you go with the technical stream or the business stream? 
DARPAN:
Yes, I went with the technical stream. 
TOM: 
Great, and did you go for exceptional talent or exceptional promise route? 
DARPAN: 
I went with the exceptional talent route. 
TOM: 
When you were looking at the exceptional talent versus exceptional promise criteria- what informed your decision to chose the route you choose? 
DARPAN:
So basically the key criteria and qualifying criteria for both of them are the same. Basically, your evidence and the strength of your evidence matters in terms of deciding between exceptional talent or exceptional promise. Plus there is a strict criteria which you have to fulfil. For instance, if you have work experience of more than 5 years then it always makes sense to go for the exceptional talent route. This is one of the guidelines in that those who go for the exceptional promise route means that they have worked for less than five years. I think if you have more than five years of experience you should always try for exceptional talent route but there are exceptions. 
My idea was that I sat down and I had to look at all the companies I worked for so whether it is in full-time way or whether I was consulting them or helping them in some other way. I also made a list of all the people who I've interacted with over time so based on that I was able to come up with a long list of people and looking at their profile I was able to see that which of these people have international standing and especially if these people have their footprint in the UK because that is quite a big qualifying criteria. So, based on that I was able to see which people are more influential career-wise or if they have better industry understanding and determine who will be better to go for my recommendations. 
TOM:
For exceptional talent route, you need to have a proven track record of innovation in a digital technology sector. I was the founder/ senior executive of a product LED technology company. The second key criterion is proof of recognition of work outside of your immediate education.  For exceptional talent, you need to prove one of these criteria. Which one did you go for? 
DARPAN: 
Well, I submitted 4 pieces of evidence for both the criterion. First I was working as CTO of the startup which was within the law industry. Here, I worked from scratch the algorithm, I was the first person with technical skills as an engineer alongside the two creators, I also wrote code and I wot most of the fist coding for the software which as shown to the investors. So I was heavily involved.
TOM: 
So the criteria you have shown is (i) proven track record of innovation n digital technology sector as the founder and (ii) founder of a product lead technology company. So what was the product in this business? 
DARPAN: 
Yes, so the system which we created in which lawyer can easily and quickly search up key words linked to their case and so find relevant case law. 
TOM: 
So the criteria is to show a 'proven track record'. So you established that with only one piece of evidence. So, how long were you working with this company? 
DARPAN: 
I worked with them for one and a half years. In terms of your track record, they look at your overall application, not just individual elements.  So whilst not every example is innovative, it still shows an overall picture of your work as being innovative and creating innovation within the technology industry. 
TOM:
Now the key criterion number two is to you have proof of recognition of work outside of your immediate occupation that had contributed to the advancement of the sector. So how did you prove this criterion? 
DARPAN: 
So at this famous engineering college in India, I was asked to help the facility learn android technology so that they could teach their students. So for three days, I did an orientation for the facility regarding android technology.  I also helped someone I knew to launch their start-up which they had already started when they were studying at university in the USA. 
TOM: 
So in terms of 'outside your immediate occupation'- what was your occupation at the time? 
DARPAN:
At the time I was working at a technology company. I was working as a technical aide, so I was leading their mobile development team. 
TOM: 
Great, so should we move on to exceptional talent, key criteria number two.
DARPAN:
So the university approached me because they wanted to put bring their computer science faculty up to speed on Android. We had a three-day orientation so it was in summer so colleges were not running at that time. I had three full-day sessions for them like something that starts from 11:00 and ends at 15:00. In these three days, I taught them about mobile development, in general, the practices coding and how to set things up easily so that their students can start quickly and how to actually learn like teach them to learn it so that they can do things on their own.
TOM:    
I see, well that shows that those three days was work outside of your actual occupation.  So what was your third piece of evidence? 
DARPAN:
So it was a company that will help you with personal styling but it was more data-driven as it will help with more tailored suggestions. So I helped them with strategy as I have already worked on another start-up. 
TOM:
In terms of the qualifying criteria then you've got to satisfy two of them. The options are one: you've made a significant technical, commercial or entrepreneurial contribution in a digital technology sector it's a founder. For example, to that you've been recognised as a leading talent in the digital technology sector right or two: you've undergone continuous learning or mastery of skills and then for it to be an exceptional ability in the field by making academic contributions. So which did you go for?
DARPAN:
I did not go for the academia one as I had not published anything. So, I focused on how I made a significant contribution to the digital technology sector. Here, I mentioned that I helped a fitness company build its mobile platform through an app.  I worked with them for less than 6 months. I also helped a travel tech star-up and help them develop their mobile technology. It was product guidance and consultancy but I also did a little bit of hands-on work. Again, I worked for them on a weekend basis for a few months. 
DARPAN:
I decided to go for kind of a recommendation letter from someone who could vouch that I have been recognised. So I approached the founder of the accelerator I talked about so he knew my previous work. He at least had some idea that I know what I am doing and I can help here. So I asked him to write a letter which actually encapsulates all of this.  
TOM: 
So the third criteria were that you had undergone continuous learning or mastery of new skills- what evidence did you rely on to prove that? 
DARPAN:
So when I was CTO at the start-up I worked for, I did a lot of new things such a machine learning. So I had to learn this from scratch and then teach it to my team at the company. There were many countless hours spent trying to learn that. This is how I showed them that I had undergone some learning. With each learning I showed the outcome I got out of it. So in this case, I got monetary gain for each new technology I learnt. 
TOM:
I see you took an outcomes-based approach. One thing to note is the letter of intent. How did you go about this? 
DARPAN:
Luckily, I had help from some I knew who had already applied for this visa and got accepted. So the letter of intent bands the whole application together. So you create a cohesive story which allows the immigration office to see you how you want to be seen and focus on your story. 
TOM:
Did you do anything else in terms of your social media profiles? 
DARPAN: 
So, I updated my Linkedin profile because that was a little outdated. 
TOM: 
Good. So for someone making an application for global talent visa now- what advice would you give them? 
DARPAN:
So my advice would be to make sure you write everything down. Also, go through the official guide and list examples for each criterion that is explained in the guidance. Be systematic. Also see for each example, which people you will need to approach for reference and approach them as early as possible. 
TOM: 
OK, and did they come back to you with any additional questions or information? 
DARPAN: 
No this was not the case. But they did mention that if they wanted clarity they may ask additional questions- but this was not needed for my application. 
TOM: 
And could you mention an exact time frame from the point in which you applied through to getting the endorsement and eventually getting the visa? 
DARPAN:
It took me close to 30 to 35 days to complete the application. Then for my application to be processed it took 22 days because I handed it in just before lockdown which is most likely why it took less time than usual.  Essentially, it took 35days to prepare my application and then it took another  22 days for my endorsement. 
TOM: 
Thank you for speaking with me today!
Full course that contains Darpan's experience and example documents can be found here.
Key Features
Here are some key features of the Global Talent visa:
A visa holder doesn't need to have a job before arriving in the UK.
They can move freely between organisations, locations, jobs and roles.
No minimum salary is needed to be eligible.
Unlike the UK startup and investor visas, no minimum maintenance funds are required.
Applicants can choose how long they wanted to apply to come to the UK for, from a minimum of one to year a maximum of five years. The visa can be further extended as long as the holder meets certain requirements.
Subject to eligibility requirements, dependents have full access to the labour market
Applicants can apply without having to pass an official English Test Qualification, although having sufficient knowledge of the English language may be a requirement of the organisation that hosts or employs them.
Visa holders for science, engineering, humanities and medicine will be able to apply for indefinite leave to remain (settlement) after 3 years regardless of whether the applicant is granted the visa under the 'promise' criteria, the 'talent' criteria or the new endorsed funder option. Under the old exceptional talent visa, 'exceptional promise' holders had to wait 5 years before they were eligible for settlement.
However, note that the qualifying period to apply for settlement under the "promise" criteria for digital technology and arts and culture applicants will remain as 5 years. I'll talk more about residency below.
Requirements:
[Here are the general requirements for all applicants [plus W3 and W4 of Appendix W)]] All applicants need to be endorsed by an official endorsing body, but there are different routes to get this endorsement. Applicants apply first to the Home Office, but the applications are considered by the specialist endorsing body. The endorsing body then makes the decision on whether to endorse you and then tell the Home Office their decision. Below are the general conditions for application from the Immigration Rules, Appendix W:
W7.1 Endorsement (assessment by endorsing body)
(a) Applications for endorsement must be made to the Home Office but are considered by the endorsing body. Applicants should not contact the endorsing bodydirectly following the submission of their application.
(b) In all cases the endorsing body will advise the Home Office whether or not it endorses the applicant. If the applicant is not considered by the endorsing body to have met the endorsement requirement set out in these Rules, or sufficiently demonstrated that their presence in the UK will contribute to the advancement of their sector, the application will not be endorsed.
(c) If successful, the decision maker will provide the applicant with a dated endorsement letter.
W7.2  Initial Application Criteria (assessed by the Home Office)
The applicant must meet all of the following:
(i) They have been endorsed in this category by a Global Talent endorsing body named in Part W7.
(ii) The date of application for entry clearance or leave to remain must be no later than 3 months after the date of issue on the endorsement letter.
(iii) The endorsement must not have been withdrawn by the endorsing body.
W7.4 Endorsement Criteria (General evidential requirements)
Evidence required to demonstrate the applicant meets the endorsing body criteria must be submitted as part of the endorsement application. To allow the applicants skills and experience to be accurately assessed, the endorsing body require specific forms of evidence set out in W7.5 to W7.7. Our course with example documents will help you to achieve this.
(a) Where an applicant is required to provide a documentation from a third party, the documentation must:

(i) be dated
(ii) show the organisation logo and registered address, if written on behalf of a third party organisation
(iii) be signed by the third party, or an individual authorised by a third party organisation to respond on its behalf
(iv) be typed, not hand-written
(v) contain full contact details, including telephone number and email address, of the third party to allow the document to be verified if required

(b) Evidence submitted for endorsement cannot include objects, Digital Versatile Discs (DVDs) or Compact Discs (CDs), digital files or documents that only show web links. If an applicant wishes to use the content of a webpage as part of their supporting documents, they must provide a printed copy of the page which clearly shows the Uniform Resource Locator (URL) for the page.
(c) Documents must be written in English or Welsh, or accompanied by a full translation that can be independently verified if required.
(d) The endorsing body will independently assess whether the evidence provided appropriately and adequately supports the applicant's claim that they meet the relevant criteria.
(e) Where these Rules require applicants to provide a letter of recommendation from a UK based individual or UK organisation, or to hold a UK based research fellowship, specified evidence from the Isle of Man is also acceptable.
(f) Where these Rules require applicants to provide a letter of recommendation, this letter must:

(i) specifically refer to and support the Global Talent application, not be a general, all-purpose letter
(ii) be a maximum length of 3 single sides of A4 paper, excluding the authors credentials and/or curriculum vitae.

(g) Where an applicant is required to provide a curriculum vitae, the curriculum vitae must be a maximum length of 3 single sides of A4 paper.