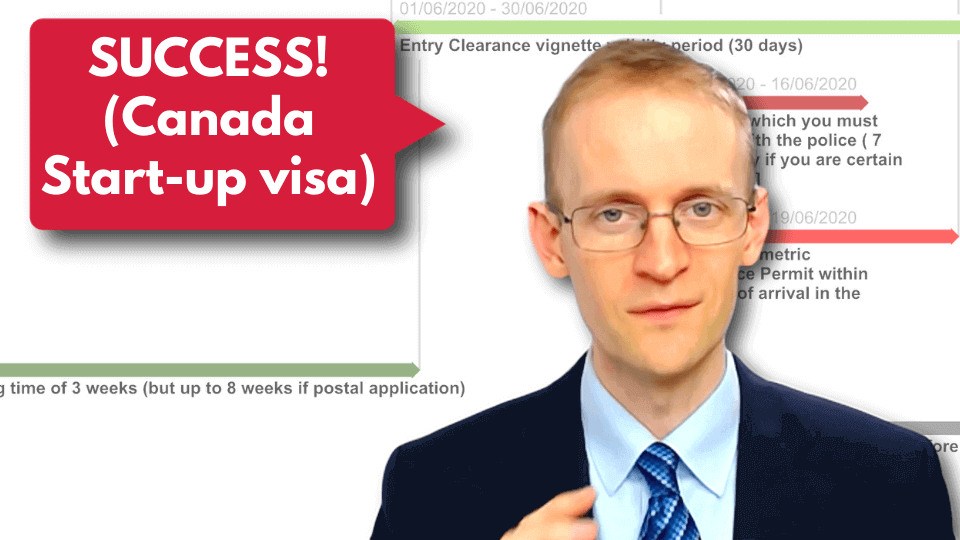 In this series, we interview successful applicants so you can learn about what is required to get the start-up visa for Canada. The success rate for the start-up visa in Canada is very high for those who get a letter of support. Sadi (featured in this video) was successful in securing a letter of support for the start-up visa for Canada.
Canada's Start-up Visa Program targets immigrant entrepreneurs with the skills and potential to build businesses in Canada that:
1. are innovative
2. can create jobs for Canadians
3. can compete on a global scale
I have done an entire course on how to apply for the Canadian start up visa, which you can check out here.
Who can apply?
To be eligible for the Start-up Visa Program, you must:
1. have a qualifying business
2. get a letter of support from a designated organisation
3. meet the language requirements
4. bring enough money to settle
5. Have a qualifying business
6. A qualifying business means you created a business that meets the following conditions.
Check out here John's story on how he applied.
At the time you get a commitment from a designated organisation:
1. each applicant holds 10% or more of the voting rights attached to all shares of the corporation outstanding at that time (up to 5 people can apply as owners)
AND
2. applicants and the designated organisation jointly hold more than 50% of the total voting rights attached to all shares of the corporation outstanding at that time
At the time you receive your permanent residence:
1. you provide active and ongoing management of this business from within Canada
2. an essential part of the operations of the business happens in Canada
3. this business is incorporated in Canada
Get a letter of support from a designated organisation
You must get a letter of support from a designated organisation (a business group that has been approved to invest in or support possible start-ups). Check out Raquel's story on how she secured her letter of support.
You'll need to:
1. contact the designated organisation to find out how to get its support
and convince the organisation that you have a business idea that is worth supporting
2. get a letter of support from the designated organisation
3. The process to pitch your idea is different for each organisation. Each organisation has its own requirements. For example, you may be asked to present your business concept in person or submit a detailed business plan.
If you reach an agreement with a designated organisation, it will send you a letter of support. You need to include this letter when you submit your application. This is the proof you need to show that the venture capital fund, angel investor group, or business incubator is supporting your business idea.
The organisation will also send a commitment certificate directly. We'll use both your letter of support and the organisation's commitment certificate to assess your application.
While your application for permanent residence is being processed, you can apply for a temporary work permit to get to Canada and start building your business. Check out Omar's story on how he secured the temporary work permit and then start up visa.
The ability to communicate and work in English, French or both languages will help your business succeed in Canada.
You must take a language test from an approved agency and include the results with your application.
You must meet the minimum level of the Canadian Language Benchmark (CLB) 5 in either English or French in all of these four areas:
speaking
reading
listening
writing
Sadi's story on getting a letter of support for the Canadian start up visa
You can hear Sadi's story on how he secured his letter of support for the start up visa for Canada, and get an idea of his English level.
Here is the transcript for the video above explaining his experience with examples:
Tom:
We're going to look at Sadi's experience of being successful in getting his letter of support for the Canadian start-up visa. So Sadi, could you introduce yourself and tell us a bit about your business and your background?
Sadi:
I have 16 years of experience in-depth of struggle and I have started a small software service five years ago. At first, it was for my own personal use and for my company's internal use. However, over time it grew exponentially, with more updates and upgrades. I felt that it was helping a lot of people in my company in solving the expiration date reminders problem which most people in small businesses have. So, it was open for public in late 2014 and since then we have about more than 2,000 clients all over the world. These are business clients and they are using our software actively. This is how it got started and now it's growing rapidly. Based on this business idea, I pitched my idea to many investors and incubators in Canada and I was accepted by one of them. So now I'm going to go for my PR and work permit application.
My business is used by a variety of industries like insurance companies, medical professionals, hospitals clinics, car rental companies and educational institutes. The simplest definition is that you can schedule reminders for a future date and it gets you reminded by email. So it just reminds you in your preferred way. I prepared a pitch deck for those who have shown keen interest in the business idea. Remember, not everyone would like your business idea so it depends upon what the nature of your business is. In my point of view, it is very important to select the right incubator which is very close to your business industry so that they very well understand what you are doing and they can contribute in the growth of your business. So I would say that whatever your business idea is, you should have a firm understanding of your industry and you should have an expansion plan on the paper because whoever the investor is interested in your idea, they are more likely to be interested in your future plans.
Hopefully, I will move along with my family. I chose Canada because I have visited quite often and I have a lot of family members and friends who are already the residents of Canada. Around five years ago, I did have a small testing phase and it grew up to a larger scale audience and it has good future scope. In fact, we are getting bigger and bigger clients as we are expanding over infrastructure and the more we are adopting technology. My basic idea was to target small and medium industries who cannot afford thousands or millions of dollars of software. It took around six months from beginning to end including the process in securing a letter of support. There was a long silence as they have their process of investigating or verifying the business which takes several months. There was no formal interview and they have detailed information forms on dozens of pages of forms which you have to fill and you have to explain the future of your business and how you'll expand your business.
Tom:
I hope you found that interview helpful. If you'd like to see the rest of the interviews in this series with successful Canadian start-up visa applicants who've got letters of support then please click on the subscribe button and the notification bell to be notified. Thanks, bye for now.
For more details and examples of the supporting documents (including business plan) that you need for the Canada start up visa, check out my course on how to apply.