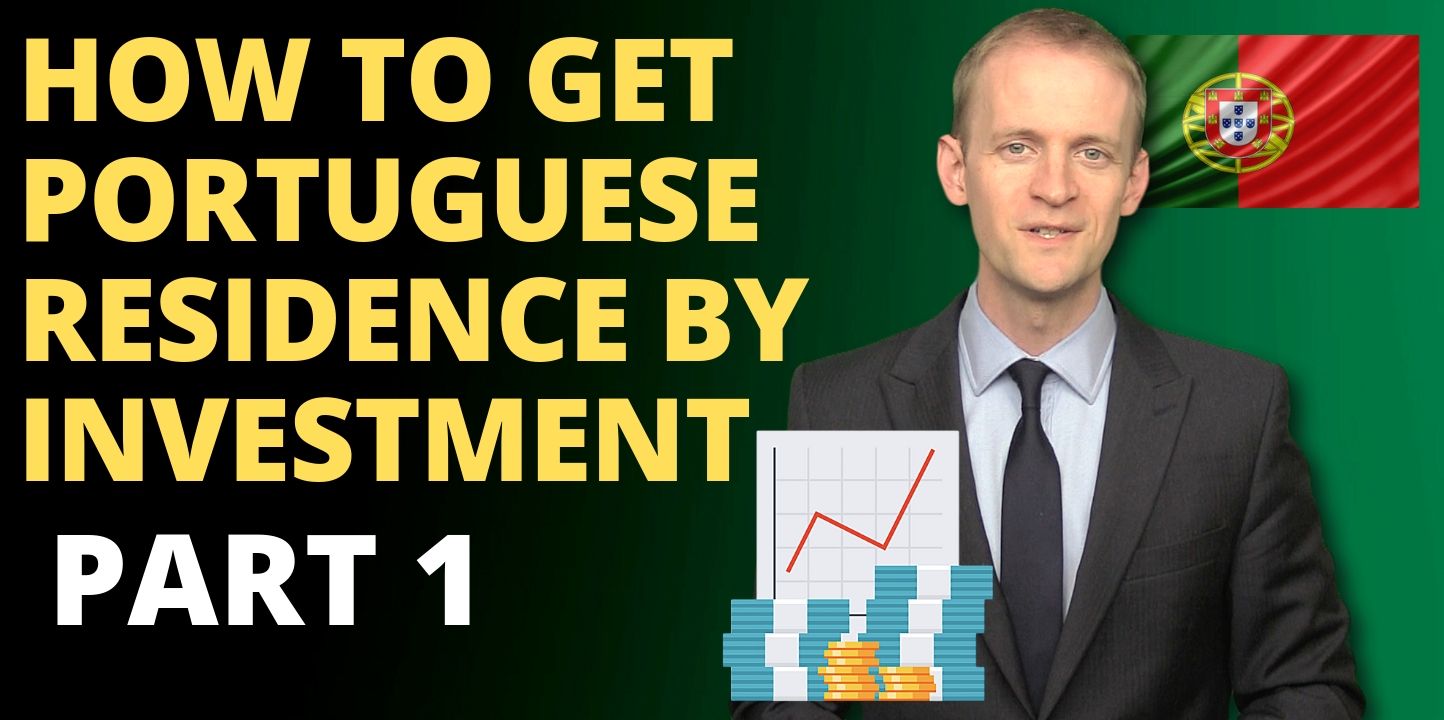 7 steps to Portuguese residence
1. Portugal Golden Visa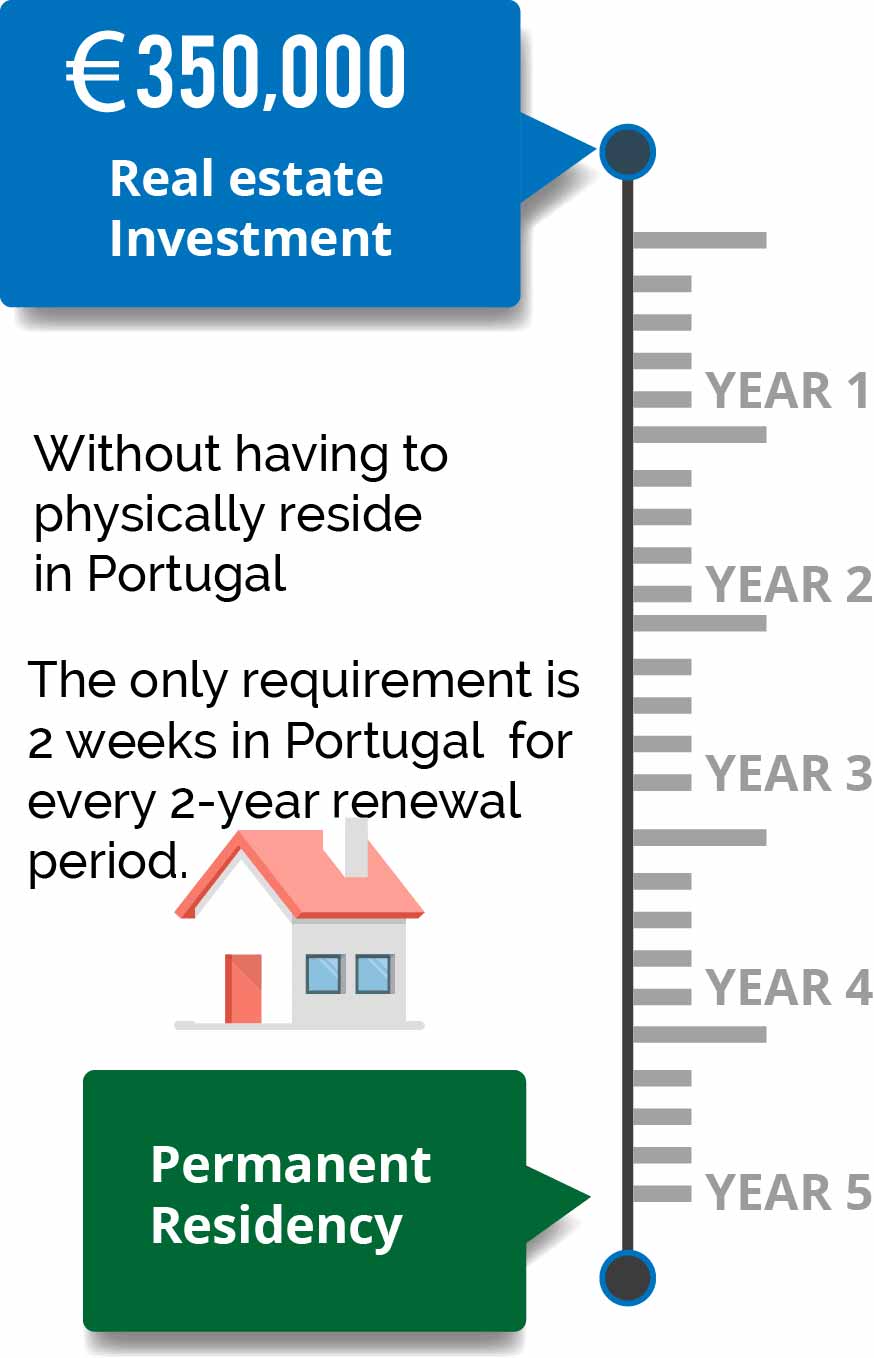 The EU second residency programs offer increased freedom of movement. Potentially, an excellent second passport. Portugal launched its 'golden visa' program in 2012.
It's been one of the most popular schemes in Europe, due to its flexibility and affordability. Under this program, for a qualifying 350,000 euro real estate investment in Portugal, you and your family are entitled to EU residency.
A key advantage to securing residency under this program is that you can apply for permanent residency after 5 years. Without having to physically reside in Portugal.
The only requirement is to spend 2 weeks in Portugal for every 2-year renewal period. So, the Portuguese real estate visa route is potentially a great option if you're looking to the European Union for your second residency.
2. Make an Application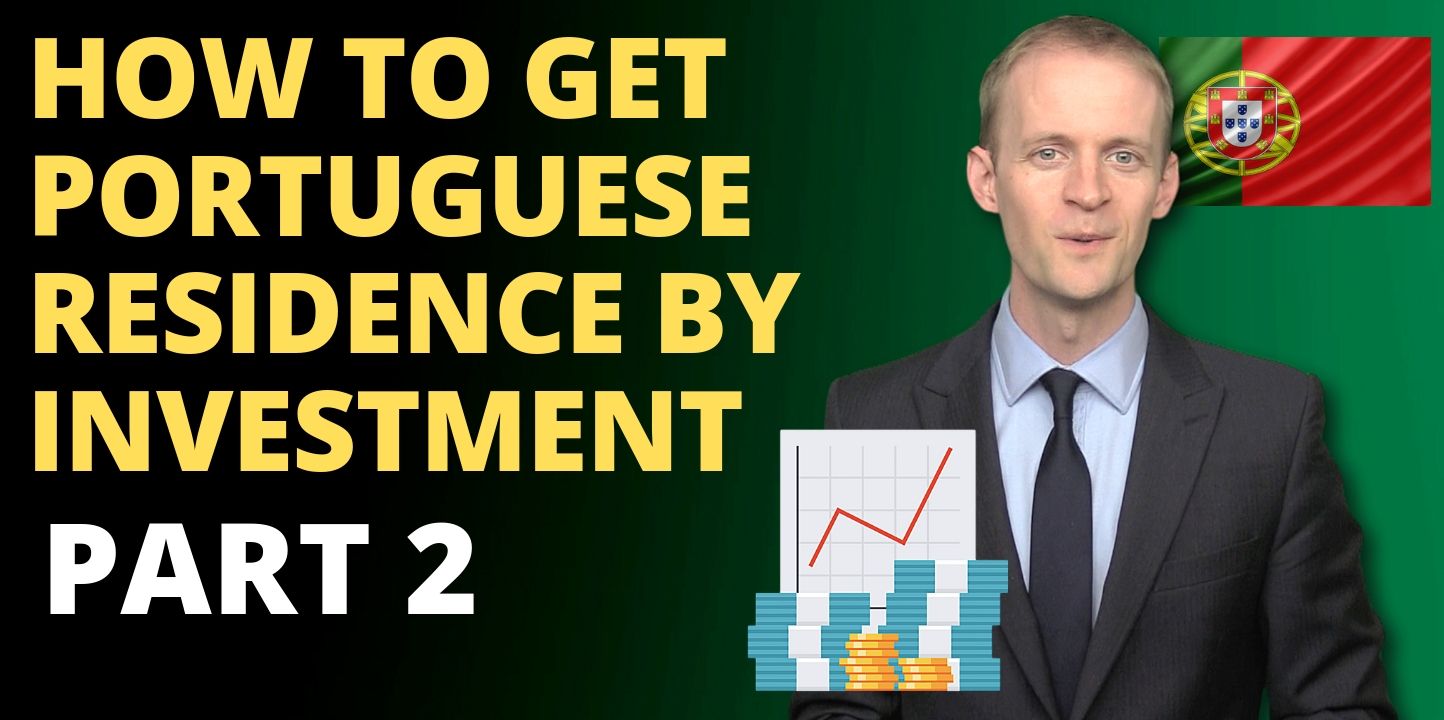 Euros in regeneration areas
Now, let's make a start on the practical steps you need to take to make an application. Through this program, you can either invest 500,000 euros in real estate, or 350,000 euros in regeneration areas.
This means the property must be over 30 years old and may require renovation. These projects need to be approved by the Portuguese Immigration and Borders Service (known as SEF) to make sure they qualify for the reduced investment amount.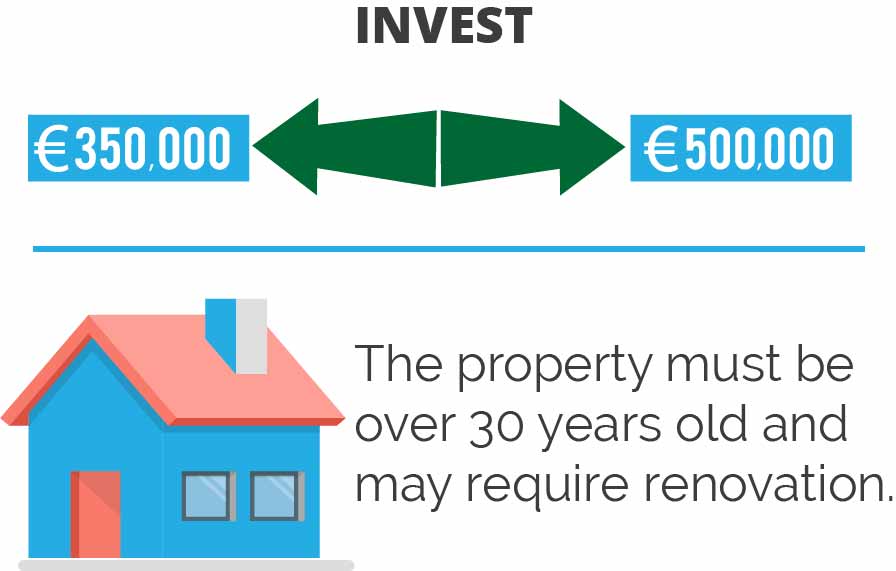 It's essential that you obtain legal advice, to make sure your intended project qualifies, before making any investment. This is something to be approached with caution, so do let me know if you're considering this.
And I can work with you and my Portuguese lawyer to ensure you get the right advice. So, you submit your application either online or through an appointed legal representative.
Residence outside of the EU
This means you can make your application from your current country of residence outside of the EU.
If you apply as the main applicant. You can bring your wife, or spouse, along with your dependent children aged 18-24 and your children under 18. And you can also bring your parents and your wife's or spouse's parents if they satisfy the test of being 'dependant family members'.
This means they are unable to provide for themselves due to their age or health. You can also bring minor dependent brothers or sisters who are under your guardianship.
Eligible for permanent residence
Family members receive the same rights, and will also be eligible for permanent residence. After five years and Portuguese citizenship after six years of residency.
Bear in mind that for citizenship you must have actually been physically resident in the country. As part of the application, you'll have to submit the necessary documents.
For the investment in real estate equal to 350,000 euros in an approved regeneration property
Main applicant
You'll need to pay the Portuguese golden visa application fees too. These vary depending on whether you are intending to bring your family with you. They are just over 5,100 euros for each individual, including you as the main applicant.
3. Temporary Residence Permit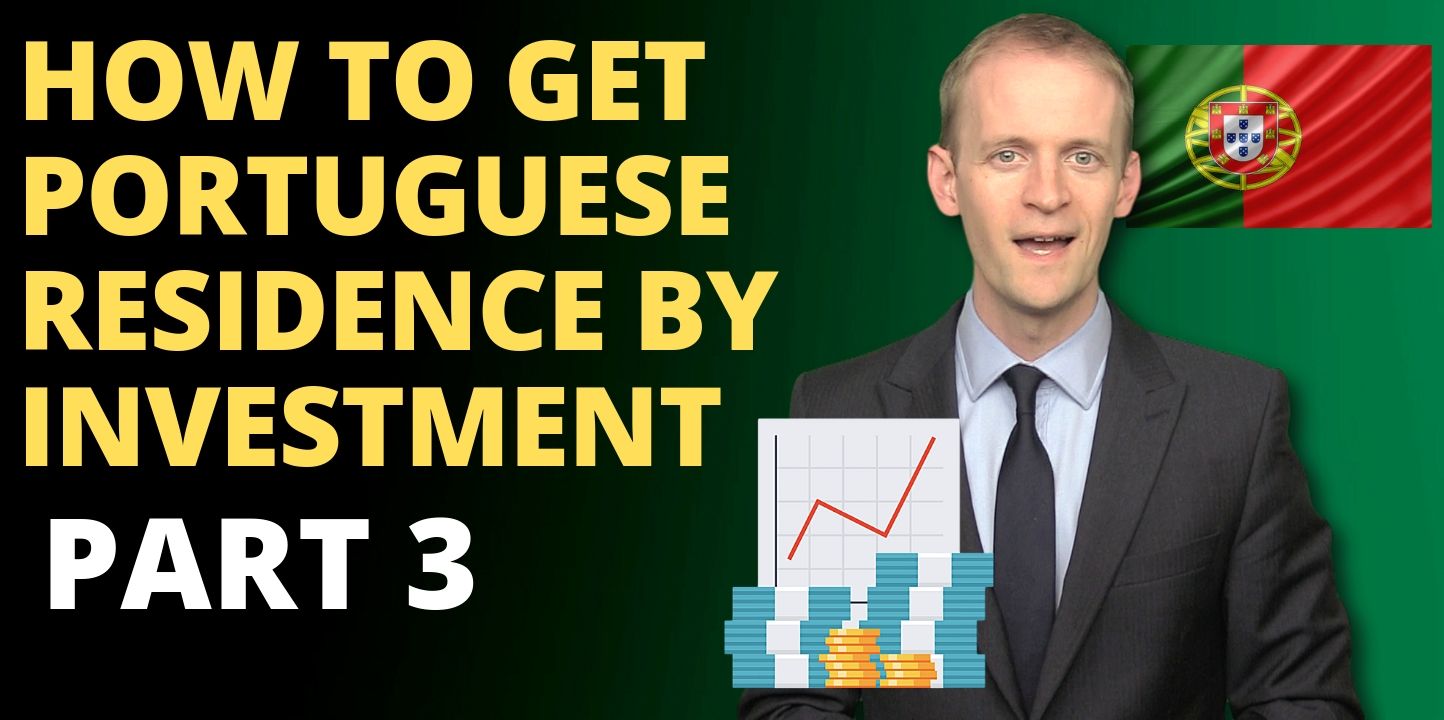 Once the application has been made, you will be granted a temporary residence permit, which lasts for 1 year.
After that year, you can renew it for 2-year periods. And after five years, you can apply for permanent residence permits for you and your family.
One year after that, so after 6 years from the initial application. You can apply for Portuguese citizenship. If you have been physically resident in the country for sufficient periods each year.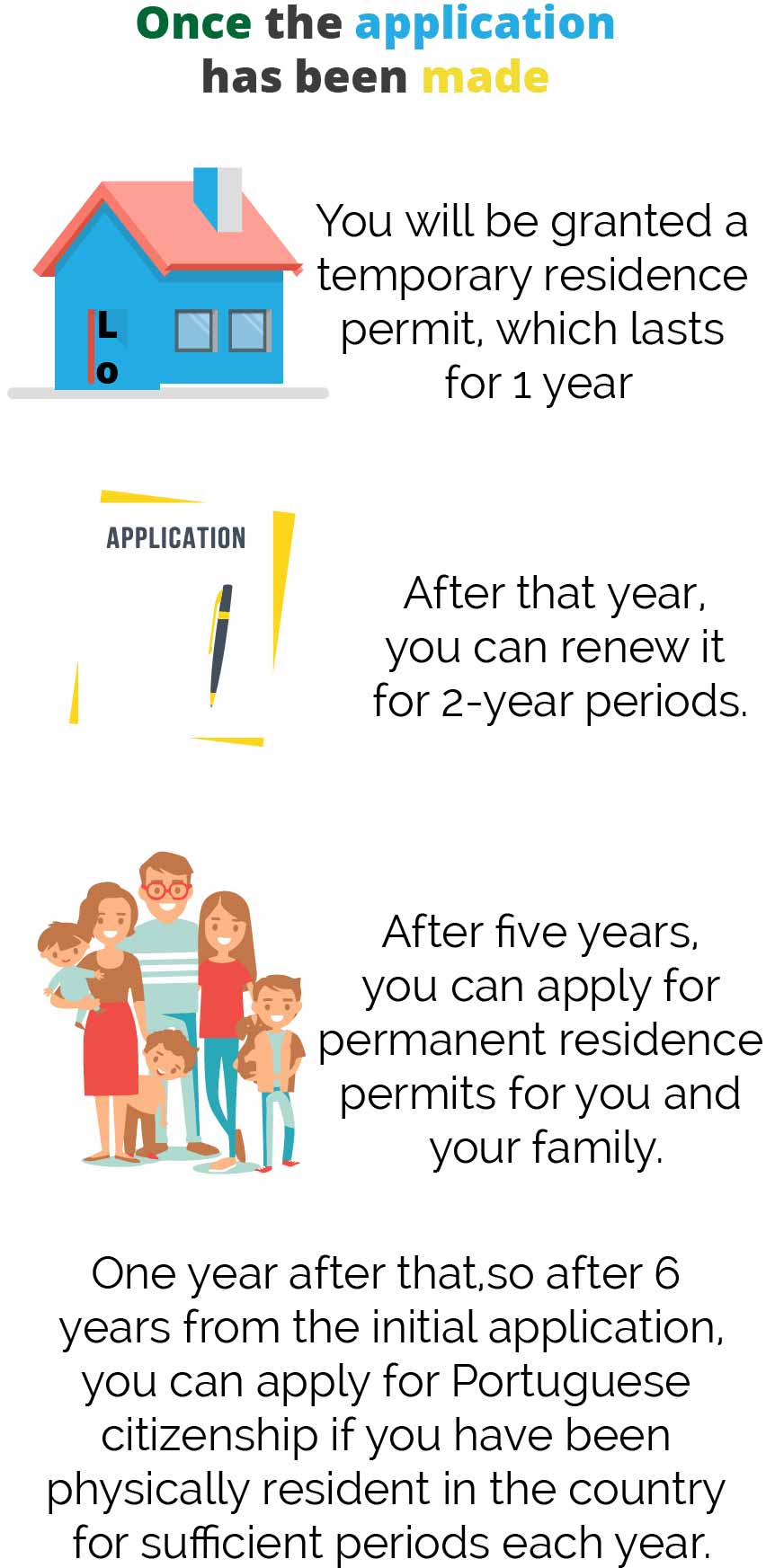 4. Requirements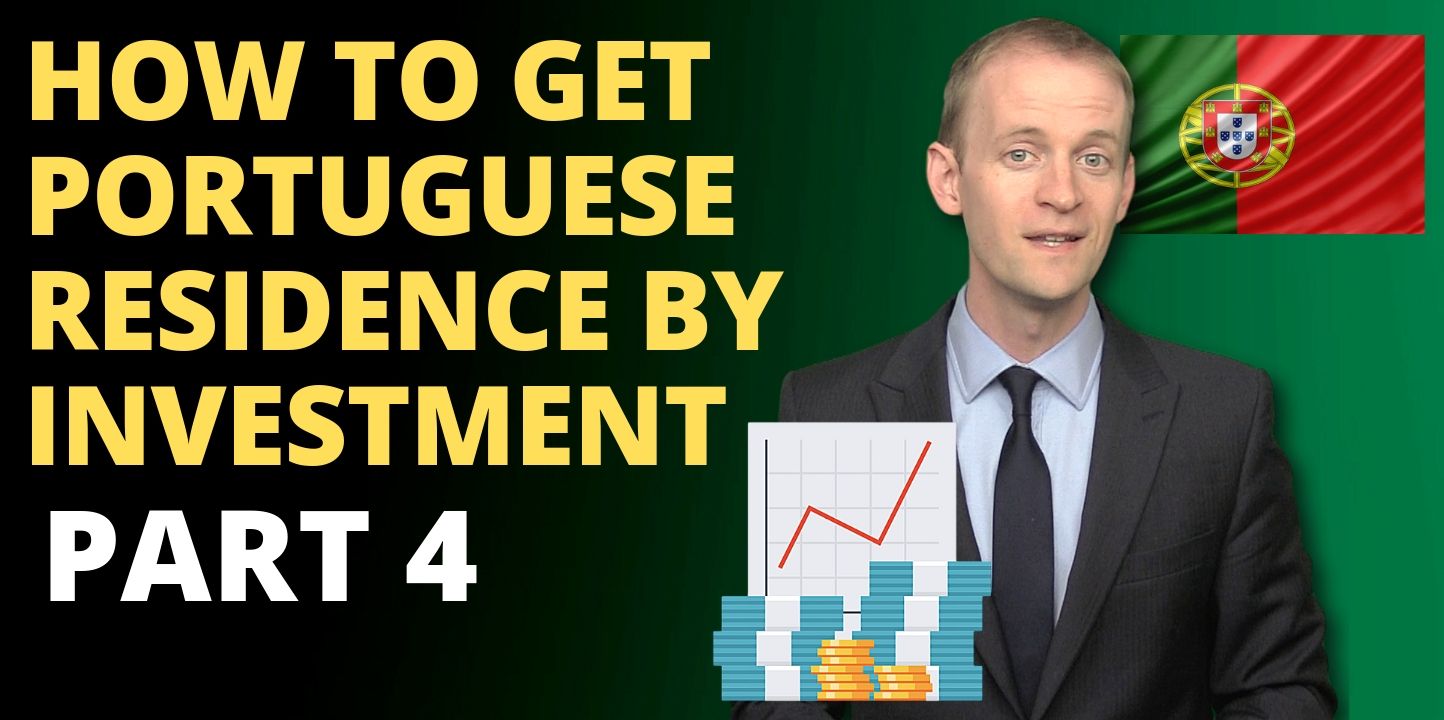 So, those are the steps needed to secure EU citizenship for you and your family under the Portuguese 350,000 euro real estate investment route.
Now let's look at some of the requirements you have to meet to be successfully granted this application:
You must submit evidence of private medical insurance for you and your family for the duration of your residency permission. And you also need clear criminal records from your current country of residence.
Whilst you don't need to visit Portugal to apply, you must spend a minimum of 2 weeks in Portugal. During each 2-year renewal period if you are aiming for permanent residence.
Granted citizenship
Throughout this process, the investment in real estate must be maintained. In order to be granted citizenship, you also need to pass a basic Portuguese language test. And show that all other conditions have been met.
Let's now look at some of the advantages of the Portuguese golden visa program. There is no requirement to become physically resident for more than half of the year in order to secure permanent residency.
5. Tax Planning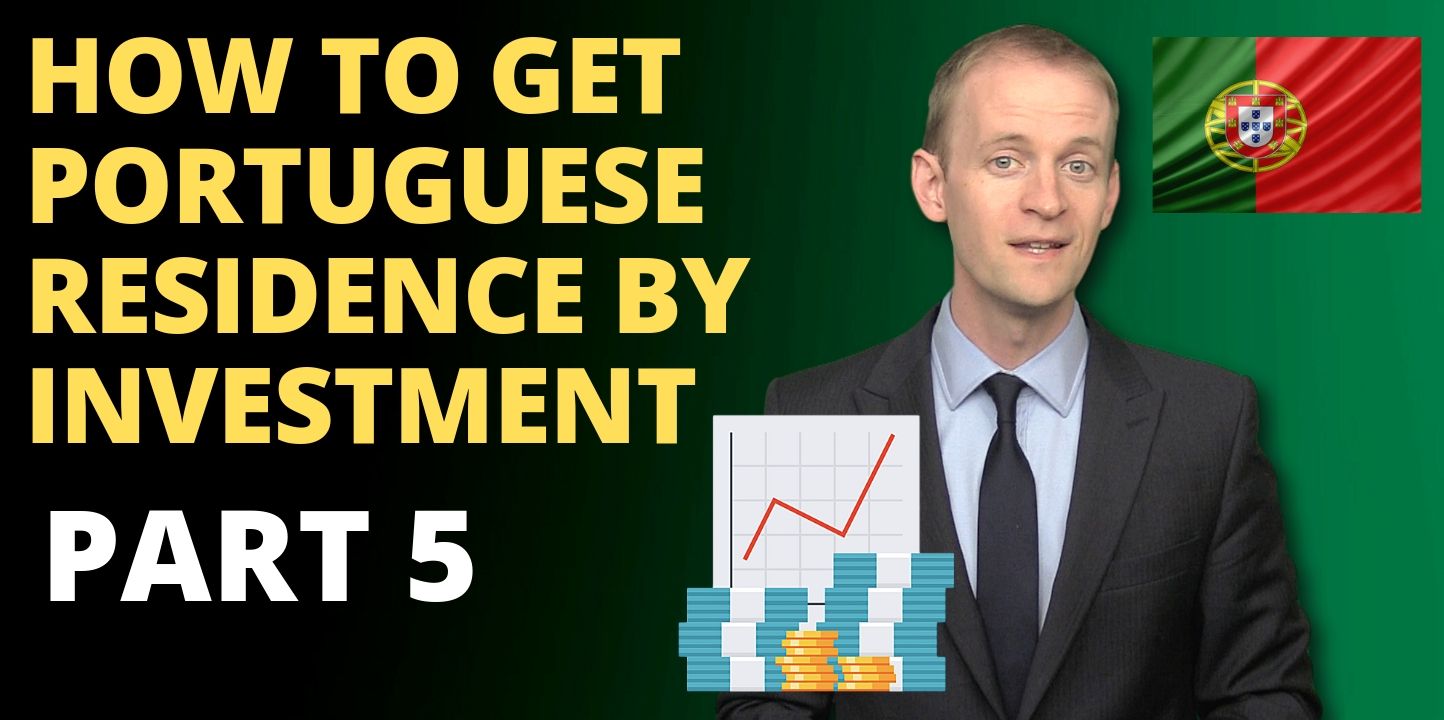 Firstly, as a general rule, if you live in Portugal for less than 183 days of the year. Portugal will not tax your foreign-sourced income, as long as your home country has the power to tax you.
So it is possible to pay no income or capital gains tax, depending on your country of origin.
If you do pay tax on Portugal-sourced income, the tax rate is generally 20%. And if you need any advice on this front, get in touch with me as I have tax lawyers who can assist with any tax planning.
Secondly, Portugal has made substantial improvements to the application procedures. Most initial applications are approved with 90 days, and the majority of renewals are approved within 60 days.
Thirdly, after the economic crisis, prices are still low, and possibly below their peak. The market has been improving over recent years and the tourism industry has seen significant growth.
So real estate developments are generally considered a promising investment opportunity, particularly in Lisbon.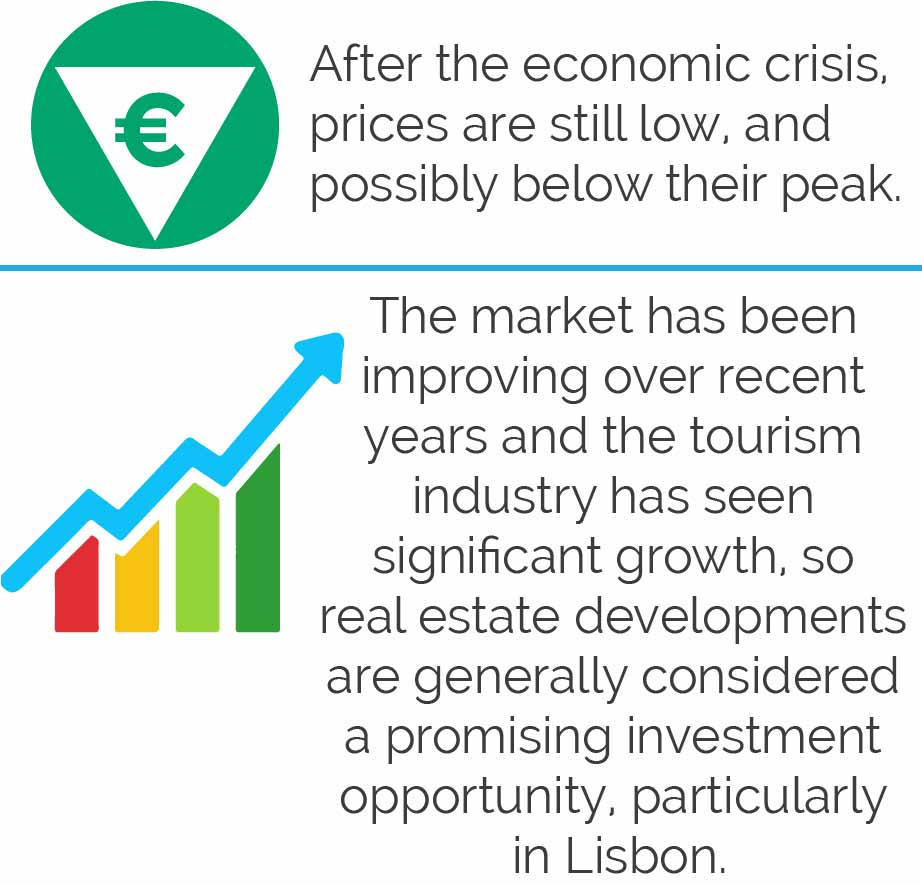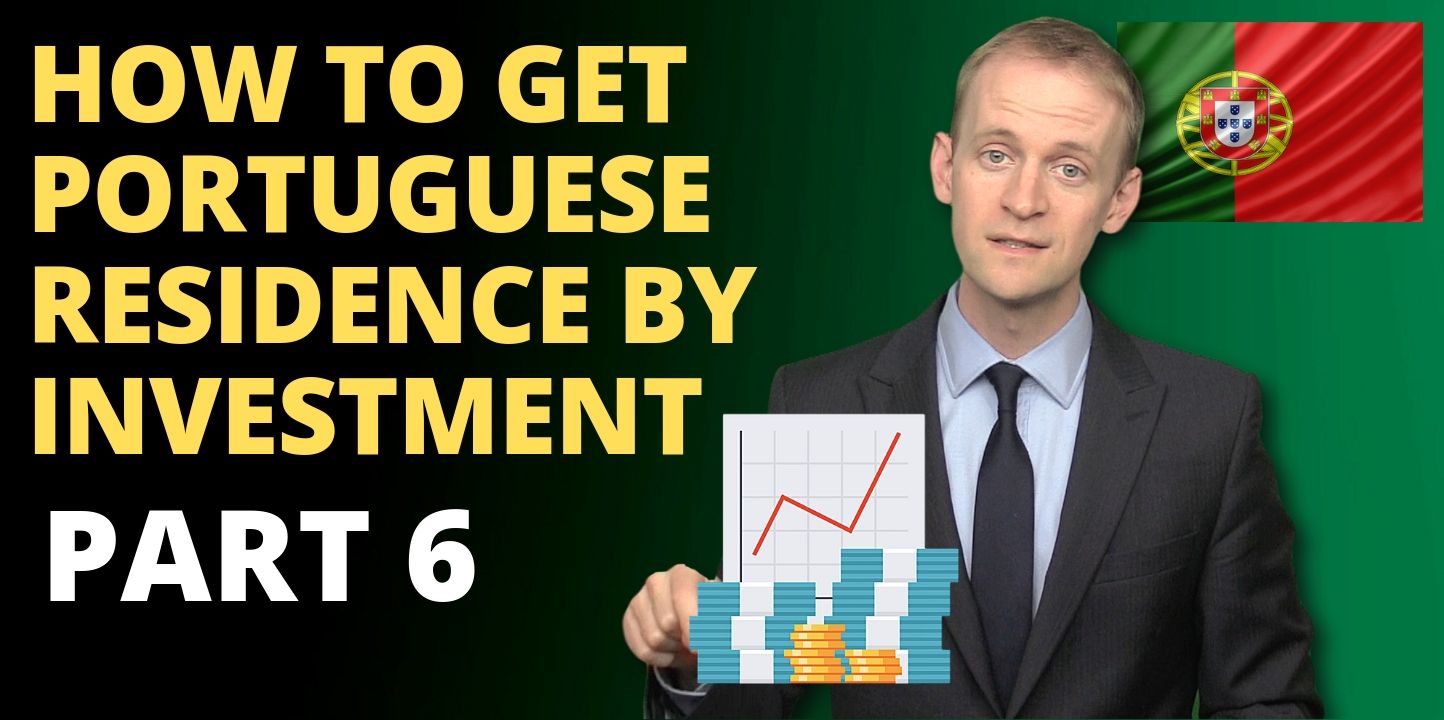 So, in summary, for a 350,000 euro investment in Portuguese real estate. You can secure residency in the EU for you and your family in 5 years. And potentially citizenship at year 6 depending on how long you are physically resident.
Just to illustrate these points, let's look at a hypothetical example of Simon. So first, having taken advice from me and my Portuguese lawyer. And having compared the international options.
Simon decides that the 350,000 euro real estate route is the best option for him to secure EU residency and later citizenship for him and his family.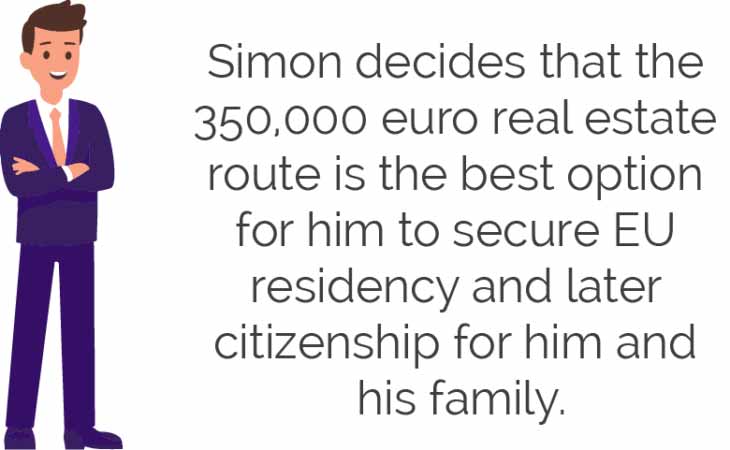 You must hold the investment for 3 years, even if the share value increases above the €2m threshold.
Simon purchases a Portuguese property and he and his family apply for their residency visas. Within 90 days they are given their 1-year temporary residence permits.
After that first year, Simon applies for 2-year residency permits, which are granted within 60 days. Two years later, their residency permits are renewed for an additional two years.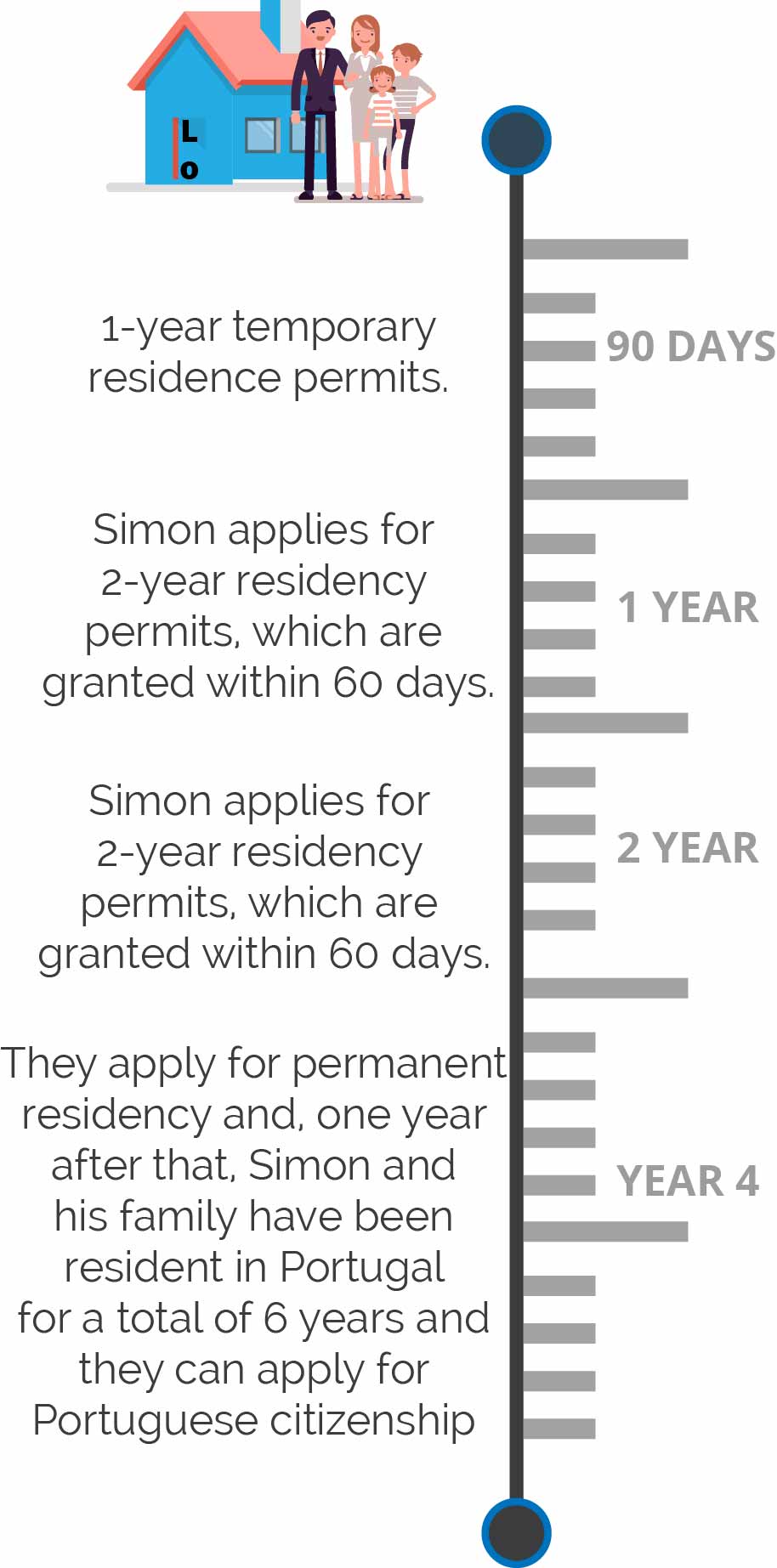 One year later they apply for permanent residency. One year after that, Simon and his family have been resident in Portugal for a total of 6 years. And they can apply for Portuguese citizenship.
As I say, this is based on the assumption that Simon has physically lived in Portugal for the majority of the period.
Once Portuguese citizenship is granted. Simon and his family are naturalized as Portuguese citizens – and therefore become EU citizens. So, they are then able to live and work.
For example, in any of the European Union member states, such as Ireland or Germany.