INTRODUCTION
The first thing you need to do, before proceeding further, is to check your maintenance funds. If it's just you applying, and you are not bringing family members, then the relevant sum is only £945. A small amount like £945 is not a big deal, right? Wrong. I have seen a number of cases now where maintenance funds have not been maintained in the way required by the rules, before people pursue an endorsement.
So, what is required? You must show that you, as main applicant, have £945, and that each of your family members has an additional £630.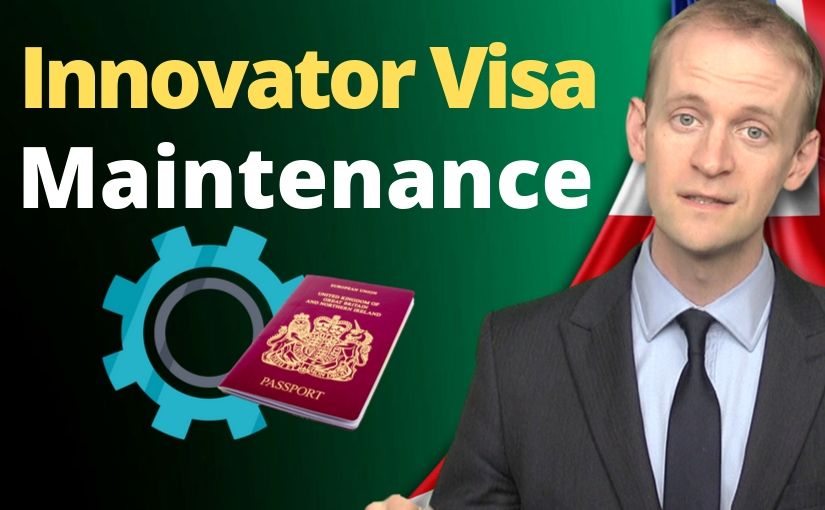 So, if your wife (or husband) is coming with you to the UK, and you are also bringing your two children, then you will need £630 + £630 + £630 + £945 = £2,835. Here is a diagram showing this example: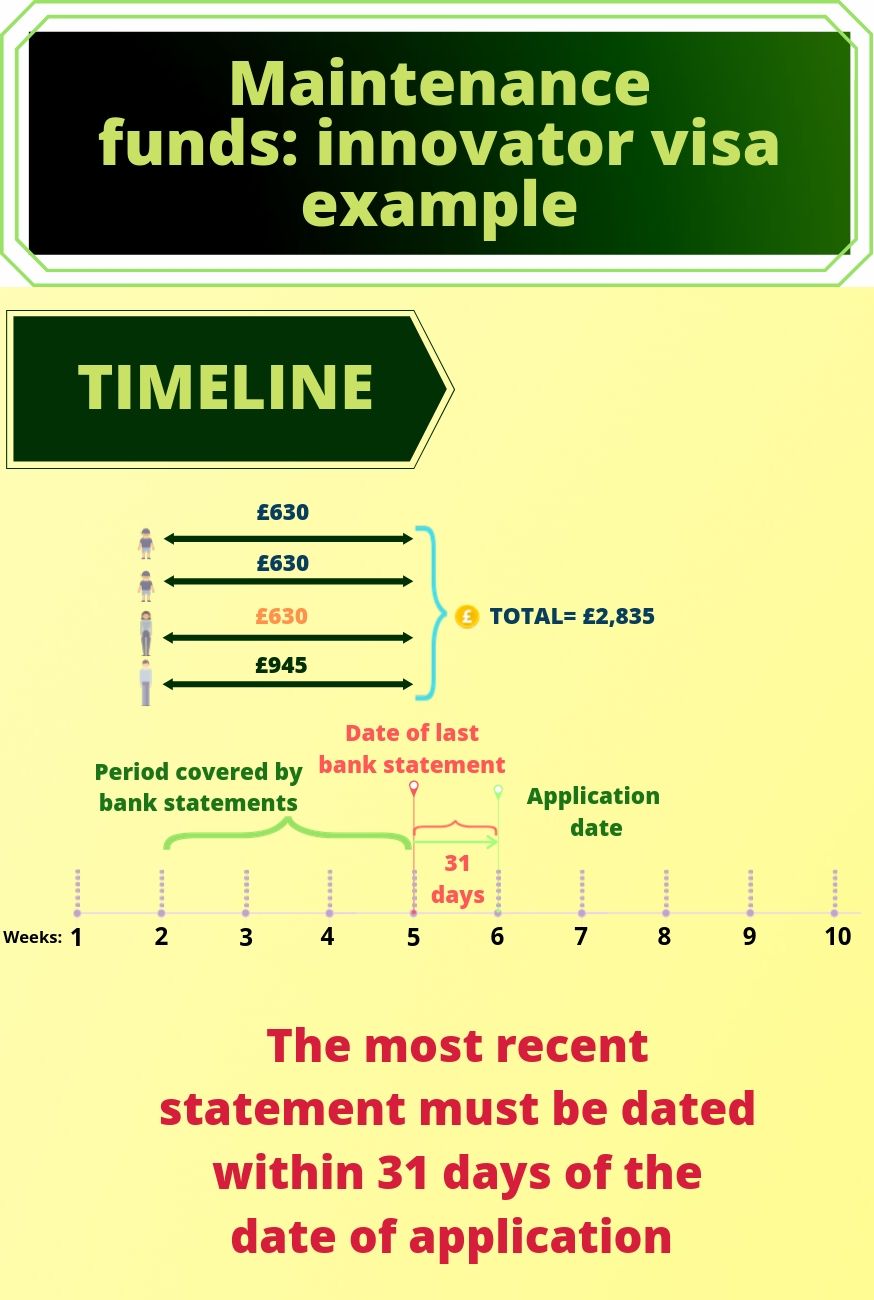 1. The "90 day consecutive
Critical point to remember
The other critical point to remember is that maintenance funds funds must have been in your account for 90 days consecutively. They must not have dipped below the relevant threshold at any point.
Dips in maintenance funds
Where it could go wrong is if you get the endorsement letter, but your maintenance funds have, for example
are dipped below the required amount. In such a situation, you may then not be able to apply for the innovator visa, even if you have an endorsement letter!
The three month 'clock' for the maintenance funds would be restarted. But the endorsement letter is only valid for three months, so you could not apply.
If, for example, they only dipped one week before you secured the endorsement letter, then you would only have a one week window to apply, and you would have to wait 2 months and 3 weeks before putting in your application.
Clearly, this is a scenario to be avoided.
So if for any reason you have not maintained
Maintenance funds in a business account
They need to be in your personal account, not your business account. The rule is at Appendix W3.9(3) The funds:
"must be held in a personal bank or building society account".
2. Electronic Statements
Relation to bank statements
The other way it could go wrong is in relation to bank statements. Most people don't use physical bank statements any more, as it is all online. But the evidential requirements are onerous.
The rules say that if you wish to rely on electronic bank statements:
you need a supporting letter from the bank, on their headed paper, confirming that the statements are authentic.
you have the bank statement stamped by the bank (the official stamp of the bank will be accepted). Remember that every page must be stamped.
Credit cards
Sorry, these are not permissible to show maintenance funds. The funds must be in the form of cash funds held in an account. This does include savings accounts and current accounts, but it does not cover credit cards!
Multiple accounts
You can rely on multiple accounts to show maintenance funds, but I would not recommend it unless you really have to. The rules say that you can take the closing balance of the account that most favours you, and use any other monies from any other accounts to make up the funds required.
Joint accounts
Again, this can be done, but I'd recommend just planning ahead and having your maintenance funds in your own personal account in your name alone.
The right bank
Your maintenance funds must not be in a bank on the 'blacklist' of the Home Office. Appendix P of the Immigration Rules shows you which banks are accepted, and which ones are not. But Appendix P only applies to certain countries. So if you are not on one of those countries listed, then you can assume that the bank statements will be accepted. Within the countries listed, e.g. India and Pakistan, certain banks are blacklisted, and others are expressly allowed.
Useful resources include the guidance for dependents
3. The key point
I would go so far as to say that maintenance funds are the first thing you should check before applying for an innovator visa. Most of my clients will have, e.g. £200k or more to invest in their business in the UK, but those funds may be in a business account. You may not realise that these funds, although in the scheme of things relatively small, need to be in your personal account and need to have been maintained for 3 months straight, with no dips.
What if you don't have the maintenance funds, or you have a dip, or you can't get the evidence?

Hold off on getting the endorsement letter until you do.
What does the law and guidance say on maintenance for innovator visa applications?
Paragraphs 88-92 of Appendix W of the Immigration Rules states:
Family member of an Appendix W Worker
88. You must have £630 to support yourself.
89. This requirement can be met by:
• having savings of £630 which must have been held for at least three months prior to the date of application; or
• a Start-up or Innovator whose endorsement letter confirms the applicant has enough funds for themselves and their dependants do not need to demonstrate maintenance separately
90. For example, the Appendix W Worker is making an application at the same time as their spouse and two children. They must show that they have £630 for their spouse and a further £630 for each child, in addition to £945 required for their own support. In total the family will require evidence that they hold £2835 in available funds (£630 x 3 = £1890 + £945).
91. If you apply at the same time as the Appendix W Worker, you are only required to provide evidence that you meet the maintenance requirement when the Appendix W Worker is also required to meet the maintenance requirement.
92. If you apply separately from the Appendix W Worker, you will need to have the necessary funds to meet the maintenance requirement or have a written confirmation in the endorsement letter, unless the main applicant already had leave in an Appendix W category and when applying for their most recent period of Appendix W leave was not required to show evidence of satisfying maintenance requirements.