In this video, I give numeorus tips for the Global talent visa, explain the application process and show example documents.
The timeline for securing the endorsement for the UK Global Talent visa is between two and four weeks. Suma secured her endorsement in two weeks and Darpan secured his global talent endorsement in four weeks. The timeline for then securing the visa is a further two to four weeks, depending on which visa application centre you are using. This visa pathway leads to settlement in the UK after 3 years for the exceptional talent limb, and 5 years for the exceptional promise limb. You can learn more about the timelines of successful applicants in my Global Talent visa course.
Application Process
STEP 1 – Obtain letters of recommendation (as specified above) and gather the remaining supporting documents required.
STEP 2 – Complete and submit your Tech Nation Global Talent Visa form to Tech Nation along with your supporting documents.
STEP 3 – Receive your endorsement letter from Tech Nation.
STEP 4 – Submit your visa application to the Home Office. You should receive a decision on your visa in 3 weeks if you are applying from outside the UK.
Pathway to Permanent Residence
STAGE 1 – You can apply to stay in the UK for an initial term of 1-5 years.
STAGE 2 – You can apply to extend your visa as many times as you like and each extension can last between 1-5 years.
STAGE 3 – You can apply for Permanent Residence once you have been in the UK for 3 years on an Exceptional Talent visa, or5 years on an Exceptional Promise visa.
The qualifying period for a partner of a Global Talent applicant is 5 years regardless of whether the main applicant is eligible for accelerated settlement. Dependent children can qualify for settlement if both parents are settled or are applying for settlement at the same time. Dependent children can also qualify if they are applying at the same time as the main applicant, if the main applicant has sole responsibility for the child.
Points to consider before you apply
Remember that this visa is for talented and promising individuals with either technical or business-related skills within the digital technology sector who are looking to work in the UK. Generally, if you are applying under this route then you will either need to be a prominent individual, leading within your particular field, or you will be someone who is deemed to have the potential to be a leader of the future. In all cases, Tech Nation (a government-backed business incubator) will assess eligibility for technology-based applications.
Letters of support
For the application you will need 3 dated letters of recommendation signed by 3 different senior members of different established organisations in the digital technology sector. Check out Darpan's example documents. The signatories must be familiar with your work and your contribution to the digital technology sector, and be qualified to assess your claim to be a leader or potential leader in your field.
Each letter must:
be written and signed by an authorised member of the organisation they represent, such as the Chief Executive, Chief Operating Officer, Finance Director or Head of Course;
include details of the author's credentials (for example, a curriculum vitae);
include details of how the recognised expert knows you;
include your achievements in your specialist field, and how, in the opinion of the recognised expert, you exhibit exceptional talent or exceptional promise;
include how you would benefit from living in the UK and the contribution you would make to the UK digital technology sector; and
include details of any future professional engagements you have in the UK, where applicable;
I have prepared a course with example supporting documents for the Global Talent visa, including the letters of support which you need to provide. Remember that there are important differences in approach depending on whether you are applying under the 'business stream' or 'technical' stream.
Traps to avoid when applying for the Global Talent visa
It is very important to make a good decision about which 'stream' to apply under. Generally, it is easier to go for the Technical Applicant stream than the Business Applicant stream:
– Technical Applicant – you must demonstrate proven technical expertise with the latest technologies in building, using, deploying or exploiting a technology stack and building technical infrastructure (Paragraph 7.6 Appendix W Immigration Rules).
– Business Applicant – you must demonstrate proven commercial, investment, or product expertise in building digital products or leading investments in significant digital product businesses (Paragraph 7.6 Appendix W Immigration Rules).
The other point to avoid is not getting caught out by the exclusions. You may not apply for a Global Talent Visa if your profile is in:
• Service Delivery, Process Delivery, Outsourcing, Consultancy (technical or management), ERP Consultancy, Systems Admin and all related fields
• Corporate roles or experience of managing large corporate teams
• Junior investors / analysts
Don't get caught out here. Note here that 'business skills' apply to in-house work within product-led digital technology companies, not tech-enabled or service companies such as agencies, outsourcers, marketing firms etc.
You are generally safe applying as a 'technical applicant' if you are in one of these roles:
• DevOps/SysOps engineers
• Principal software engineers/developers
• Experienced data scientists/data engineers
• Artificial Intelligence, Natural Language Processing and Machine Learning experts (AI, NLP, ML)
• Cybersecurity experts
• Hardware engineers
• Experienced front-end developers
• Operating systems engineers
• Experienced video game developers
• Experienced UX/UI designers
• Experienced Mobile App developers
• Experienced back end developers leading development of or contributing heavily to major new technologies or open source projects (e.g. blockchain, Scala, Golang, Elasticsearch etc)
• CTO or VP engineering experience managing teams of in-house employees at a growing digital business
• Virtual and augmented reality developers
You are also generally safe to apply as a 'business applicants' if you can show experience such as:
• Experience of leading substantial VC investment over £25m GBP
• Experience as a commercial / business lead (P&L, growth, sales and distribution strategy) in a digital business
• Experience of expanding or growing a significant product-led digital technology business
• Sector-specific experience e.g. payment infrastructure in FinTech / international expansion in EdTech etc.
• Solution sales experts
• Experienced Product Manager
• SaaS or enterprise sales leadership for digital services
• Solution sales skills performed for a growing B2B digital business (i.e. not big-company experience)
• Performance marketing experts, performed in house for digital businesses
• Experienced and senior VC or PE analysts with track records of leading investments in digital businesses
• Experience as C Suite in a SMEs + (CEO, CMO, CIO) or head of operations for a digital business
The other crucial choice of course is choosing whether to apply as an "Exceptional Talent" or "Exceptional Promise" applicant.
– Exceptional Talent – you must be an established and leading individual within your field within a proven track record of innovation in the digital technology sector (Paragraph 7.6(a) Appendix W Immigration Rules).
– Exceptional Promise – you must be an individual who has been recognised as having the potential to be a leading talent in the digital technology sector (Paragraph 7.6(a) Appendix W Immigration Rules).
You will then have to meet (as appropriate) either:
• 1 of the key "Exceptional Talent" criteria and 2 of the qualifying "Exceptional Talent" criteria in the table below ; or
• 1 of the key "Exceptional Promise" criteria and 2 of the qualifying "Exceptional Promise" criteria in the table below (Paragraph 7.6(a)(i) and (ii) Appendix W Immigration Rules).
There is no requirement for English language or maintenance funds for applicants under this route (Paragraph 3.8(a) and 3.9(a) Appendix W Immigration Rules).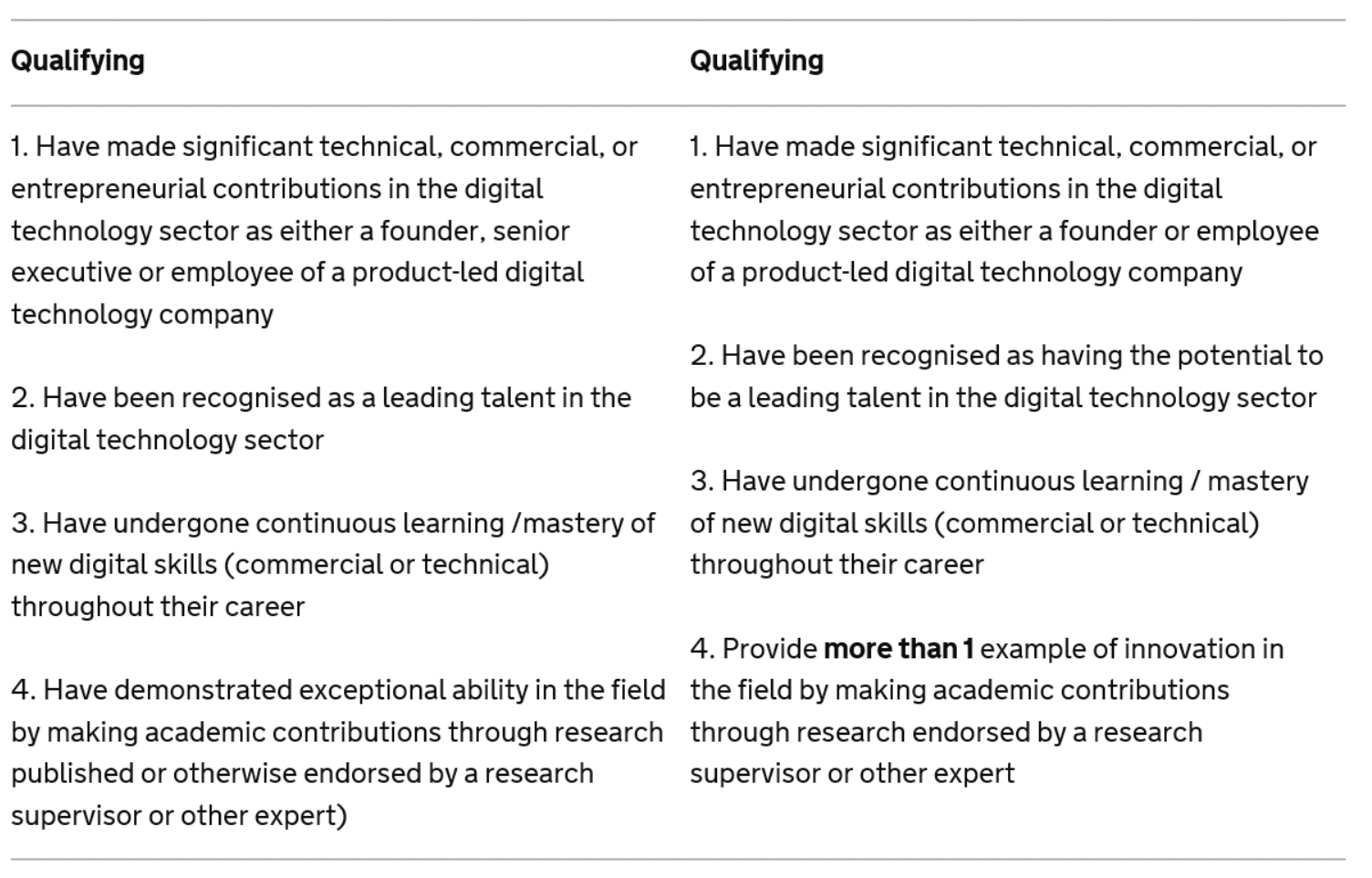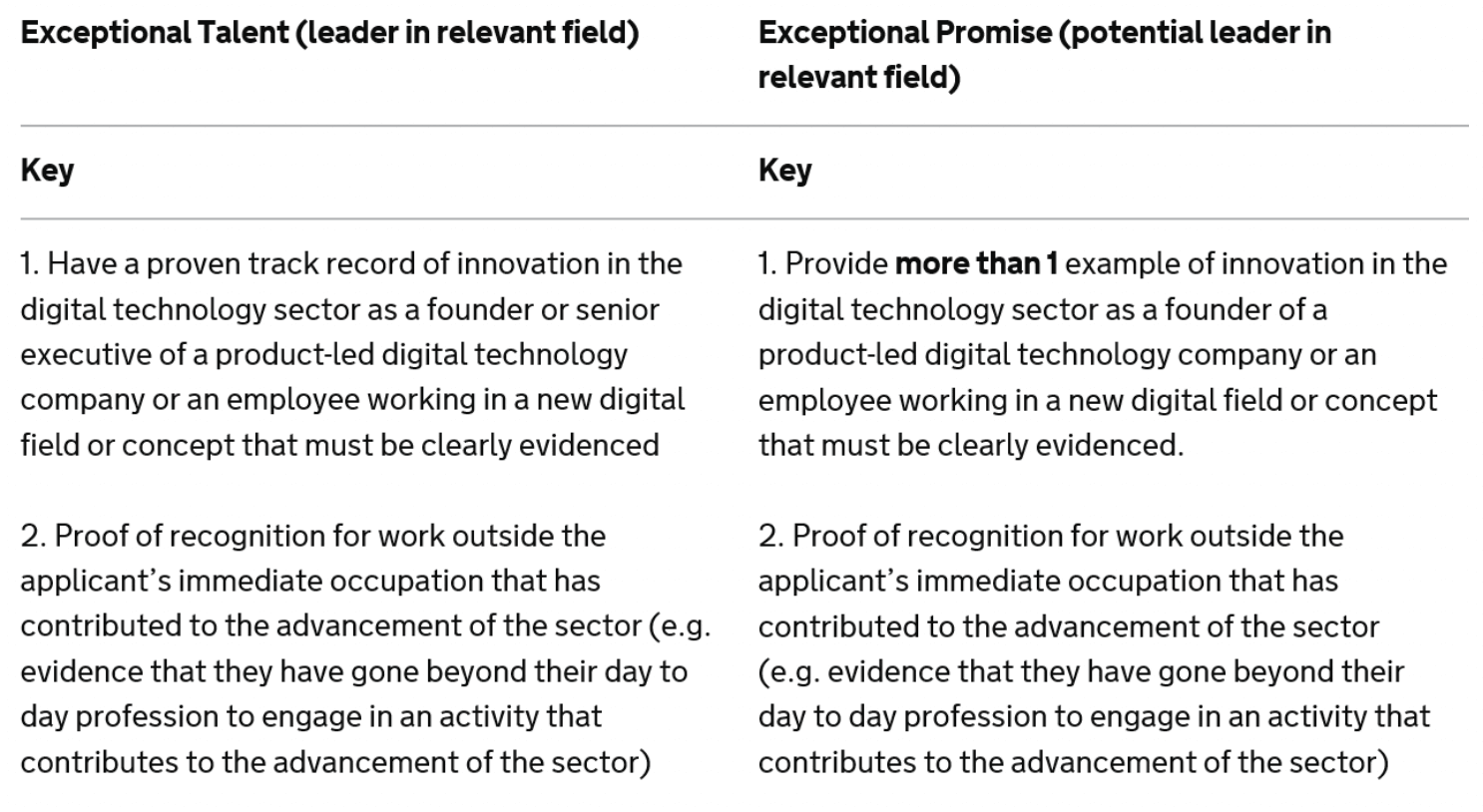 The other supporting documents you need
Again, you can see example supporting documents with commentary on my course.
These include:
a completed Tech Nation Global Talent application form;
a curriculum vitae outlining your career and publication history;
a completed Tech Nation Global Talent application form;
a curriculum vitae outlining your career and publication history;
evidence of any active businesses established or businesses that have been dissolved in the last 5 years, either which must have been commercially successful or otherwise demonstrate how you meet the endorsement criteria, in which you have been a founder or senior executive, or evidence of share ownership through business in a digital technology sector company (this
evidence in included in the maximum 10 documents discussed below); and
evidence in relation to the relevant key and qualifying criteria listed above. This evidence must consist of no more than 10 documents in total, and must be submitted via the Tech Nation (Global Talent) online form. Each document must be no more than 3 A4 sides in length (Paragraph 7.6(b) Appendix W Immigration Rules).
General Documents
You must also provide:
• your current passport or other valid official travel document; and
• your tuberculosis test results if you are from a country where you have to take the test.
Helpful resources
My course on how to apply for the Global talent visa (with example documents)
Home Office Global Talent Guidance