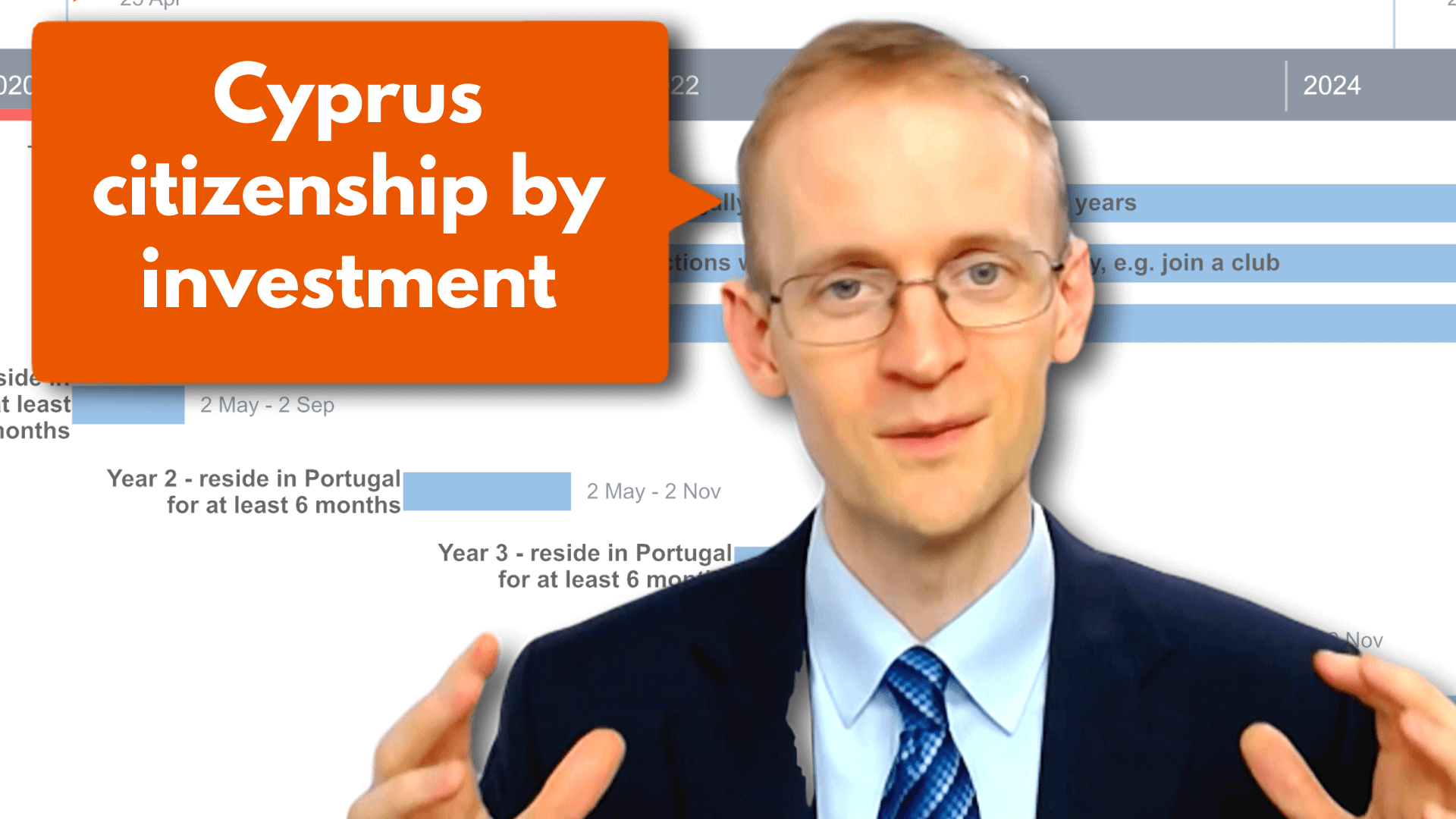 In this video, I discuss how to get Citizenship by investment in Cyprus (2020)
The Cyprus Citizenship by Investment program  in 2020 now offers the fastest and most secure route to gaining n EU passport through investment in real estate. You need to have €2 million funds available to invest into real estate, plus a donation of €75,000 to the Governments Research and Development fund and €75,000  to the Land Development Organisation. The lead in period to the passport is no no more than six months. This takes on particular importance in the context of Brexit, because it means you can secure the Cyprus passport and then come to the UK and apply for pre-settled status. Five years later you would secure permanent residence in the UK (indefinite leave to remain) and then citizenship one year later. So this would mean securing the Cyprus passport in November 2020, then securing pre-settled status in December 2020. You would secure settled status after 5 years in 2025, and British citizenship (and a British passport) in 2026.
Application process
Recently the Cyprus government has been ensuring that all applications are processed within 6 months. By the end of May all outstanding applications – about 600-700 will be determined. You need to have your funds available before applying. As soon as they have been invested in qualifying properties, you can apply immediately. As set out in the infographic below, you get permanent residence in Cyprus first, and you then need to maintain this for 6 months before securing the actual passport. The actual transaction can be structured in such a way that a full refund of the investment is provided in the unlikely event that a citizenship application were refused.
After 5 years the investment can be reduced down to just €500,000 and this investment must be maintained for life as your home, or second home, in order for you to retain your citizenship.
Return on investment 
The property can be either residential or commercial, and it can be rented for income. The investment can also be made either directly or through a company in which the applicant is a shareholder.
Requirements
There is a requirement for a clean criminal record, but there is no language requirement. There is also no requirement to actually stay within Cyprus. You can actually bring (financially dependent) family members up to the age of 28. The main applicant's parents can also apply, if you invest an additional €500,000.
Family
Qualifying family members include spouse, all children up to the age of 28 and all future generations. Parents can also qualify by making a further €500,000 investment in real estate. It is also a citizenship that can be passed on to your future generations.
Taxes
In 2015 the Cypriot government introduced tax incentives to attract direct foreign investment and high net worth investors. So non-domiciled investors are exempt from taxation in Cyprus for personal investment income, as well as dividends and interest. So if you are not domiciled in Cyprus, it is possible to pay zero tax in Cyprus irrespective, both on your foreign income and on income earned in Cyprus. There is also no inheritance tax, and corporation tax is just 12.5%.
Relationship with the UK
There have been discussions regarding free movement between the UK and Cyprus after Brexit. This is unlikely to maintain momentum as the EU will want to retain a unified approach in relations with the UK. Cyprus is an ex-British colony and there is a long-standing relationship with the UK. You can secure excellent British education in English, and over 80% of the population speaks English. Three UK universities have campuses in the UK and so there are excellent options for your children.
Access to the EU
With Cyprus citizenship by investment, you have full EU citizenship, and you do not have to live in Cyprus, you only need to maintain your €500,000 property investment. It also allows you access to Canada, Australia and Hong Kong without a visa.
Let me know if you require assistance with this or any other EU visa routes and I would be happy to explore your options with you. Many of the other visa routes I help with do not involve any minimum investment, so it is sometimes better to consider your broader options.