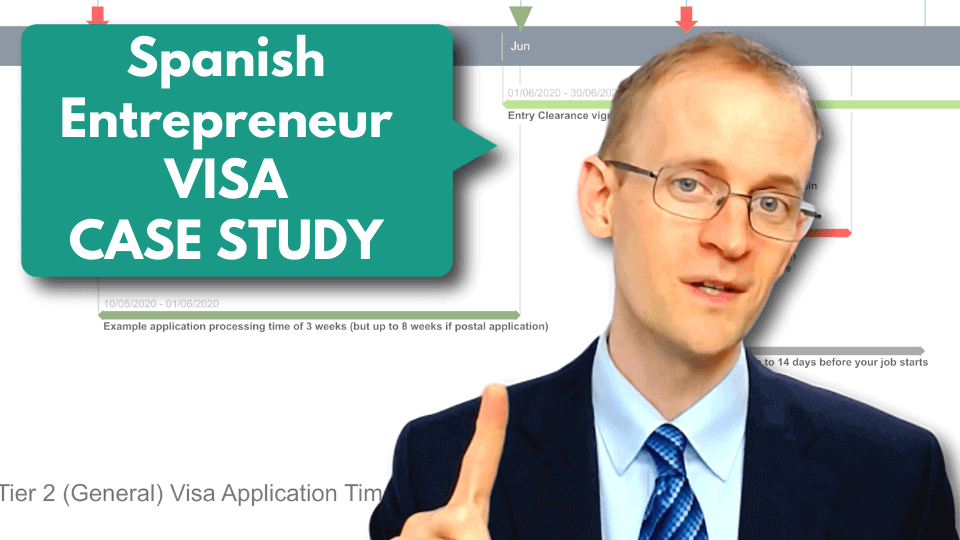 This video is an interview with Mary Clare, who is an entrepreneur who made a successful Entrepreneur visa application for Spain soon after the visa route first opened. She then successfully transitioned into a freelancer visa.
Here is the law on Entrepreneur visas for Spain:
"This Act is aimed at investors, entrepreneurs, highly skilled professionals, researchers, and workers performing inter-company business operations, including their spouses and children under 18.
The Act facilitates a swiftness of processing, generally establishing a resolve within 10 days for all visa applications relevant to this law.
The Residence Visa issued under this law is sufficient to reside in Spain for one year without having to obtain a foreign identity card. The renewal of residency may take place even if absences exist for longer than six months per year in the case of Residency Visas and authorisations for foreign investors and for foreign workers performing inter-company operations abroad or that have established their base of operations in Spain.​"
​
The general requirements of the Spanish entrepreneur visa include that you are:
1. To be regularly on Spanish soil.
2. Be older than 18 years.
3. No criminal record in Spain or countries lived in during the last 5 years for offences stipulated under Spanish Law.
4. Not listed as objectionable in the territorial space of countries with which Spain has signed an agreement in this regard.
6. Have a public insurance or private health insurance with a Health Insurance Institution authorised to operate in Spain.
8. You have sufficient financial resources for yourself and for the members of your family during the period of residency in Spain (2.130€ monthly for yourself and 532€ for every family member that is in your care).
9. You pay the fee for the processing of visa(s).
The law on freelancer visas for Spain allows for a foreigner to enter Spain to live and carry out work or professional self-employment activities. ​
Key points include:
• This visa must be applied for in person.
• Application must be submitted at the earliest 90 days in advance to the expected date of travel.
• Residence visas must be picked-up within a month, counting from time you received the notification that it was approved. If later than 30 days, visas will be canceled.
• Within the valid time period of the visa, business activities must start and you must register with the Spanish Social Security.
The documents you have to submit for the Spanish freelancer visa include:
1. Visa application form and visa Documents Checklist​ (Original and photocopy). The application form must be filled out in capital letters and signed.
2. One passport-type photo (white background, 2×2″) glued to the form.
3. Passport or Travel Document. (original and photocopy of the main page). Passport should be no older than 10 years. Please make sure your passport has at least one blank page for the new visa.
4. I.D. Card that proves your place of residence is within the jurisdiction of the Spanish Consulate (original and a photocopy). You can provide one of the following documents: U.S. Driver license, State I.D. card, Voter's Registration Card, current Student I.D.
5. (Non-US Citizens only) Alien Registration Card or long term U.S. Visa. (Original and a photocopy).
– Holders of B-1 and B-2 Visas cannot apply in the United States; they must apply in their country of residence or country of origin.
– Applicants holding Student Visas must also submit their I-20 signed by the university on the last page and a copy of their F-1 Visa.
6. EX 07 Form
7. Model 790-52 Form​​ (plus taxes).
8. Model 790-62 Form (plus taxes)
9. Business Plan of Activities that will be carried out, with the anticipated investments shown, your projected profits and the possible amount of jobs created.
10. Copy of Documentation that proves the respective training needed, in each case, the professional qualification/certification legally required for the appropriate professional tasks.
11. Proof of sufficient economic funds, or contracts of investments or loans from financial institutions. There must be evidence of sufficient funds to establish and maintain employment indefinitely.
12. Work Permits or Licenses that sanction the building, opening and operation of the planned project.
13. Certification of "absence of police records" (18 years of age or older) (Original, photocopy, translation into Spanish, photocopy of translation): Obtain a background check verified by fingerprint comparison. This document is valid for 3 months in reference to the date that it was issued. It must be legalised with the "Apostille of The Hague" and then translated into Spanish.
Tom:
Mary Claire thanks very much for joining us today, would you be able to tell us about your experience applying for the Spanish entrepreneur visa?
Mary Clare:
I decided to move to Spain because when I compared it to other countries in a spreadsheet, Spain came up as the winner in that it seemed to be relatively easy to get an entrepreneur visa as compared to other countries. When I decided that I was going to move here, the New York Times published an article about a woman that had received a Spanish entrepreneur visa. This article was shared to me by three friends of mine. So, I said okay I'm going to give it a try. So I just came in on a tourist visa, on a 3-month Schengen visa where you can just show up at the border and give them your passport.However, I was very slow to respond when I should have come here and immediately hit the ground running. I don't advise my approach to other people. Rather, I should have had the business plan written up. Essentially, I had to write a business plan and demonstrate that my business is either innovative in nature or that it will generate jobs. There are a few key factors  in that the Spanish government is looking for businesses that are technology related; aerospace, renewables, biotech etc. My business was consumer tech. There are also very stringent time limits, like either 20 or 30 business days in which you that you have to submit your business plan. Then, you submit a police record explaining that I have not committed any crimes. Having proof of health insurance is also important as Spain previously had universal health insurance but it was a massive drain on the budget with immigrant s who were also entitled to health care. Additionally, I also had to prove that I could sustain myself for two years financially. The bar is quite low it's about over six hundred euros per month. Plus, I had all the documents translated into Spanish.So, once your business plan was approved then, you get a piece of paper saying that you are received your residency. Then you have to go to the Police station, where you will be given an identity card. Important to note that this will need to be renewed every two years. 
Tom:
What kind of business did you start up?
Mary Clare:
My business concept was to create an exercise app. Here, my focus was on yoga as that is all the rage now. I had some previous experience in this as I did marketing for small business in New York City. This included a number of yoga businesses.  
Tom:
Why did you choose the Freelance visa over something like the Entrepreneur visa? 
Mary Clare:
Whilst they are very similar, I choose the Freelance visa because there was a higher thresholds for creativity. The main difference is that there is no time limit for the Spanish government to process the freelance visa. I mange to renew my visa within a month. 
Mary Clare:
The most important thing to remember is the business plan. I have  a business background as I was previously a financial analyst so I had some idea as to what a successful business plan looked like. I did a thorough market analysis and there wasn't really anything online at that time for yoga. My business plan was twenty four pages long. The idea was to market it here specifically in Spain, South America and Mexico which meant my business could expand to bigger markets. The length of my business plan for a freelancer visa was little more rigorous because I knew the business and was able to provide more detail. Such as a client list and letters from clients as well. This set me apart and proved that I was a strong candidate for the Freelancer visa.
Tom:
Great! Thank you for speaking with me on this topic.