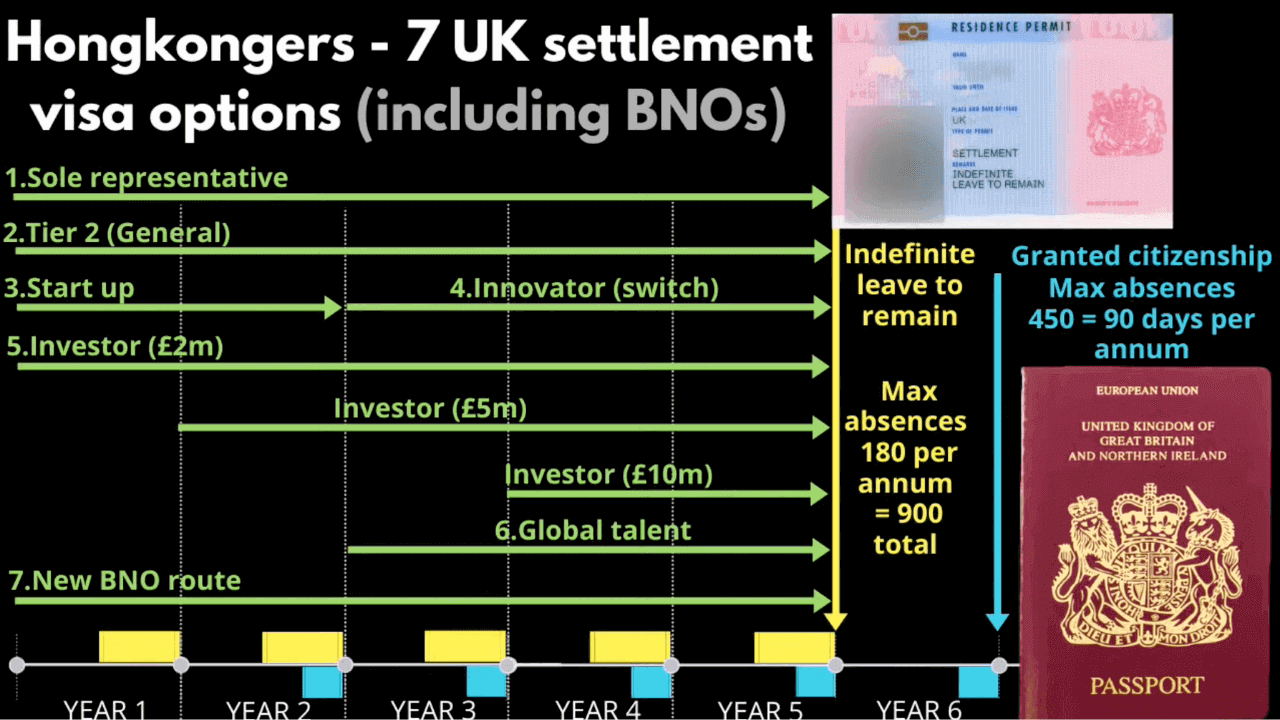 This article is going to discuss seven options which allow people from Hong Kong to enter the UK.
Individuals who did not acquire Chinese nationality and would have been stateless on 1 July 1997 automatically became British Overseas citizens (under Article 6(1) of the Hong Kong (British Nationality Order) 1986). This generally only applied to those not ethnically Chinese. But otherwise, acquisition was not an automatic process. Eligible residents had to have applied for the status between before the end of the registration period. The deadline depended on your date of birth but the last were in 1997.
While about 3m people acquired BNO status, 2.5 million non-British Dependent Territories Citizens (almost all Chinese nationals) were ineligible for BNO status. Those ineligible who wished to register as BNOs were required to have been naturalised as Hong Kong-connected British Dependent Territories Citizens by 31 March 1996. Acquiring Hong Kong British Dependent Territories Citizen status other than by birth was no longer possible after that date.
With a BNO passport you will likely soon be able to use the new pathway to British citizenship, but there are also other options such as;
Sole representative;
Tier 2 (General);
Start up visa;
Innovator visa;
Investor visa;
Global talent visa.
The next video is on how to apply for a BNO passport 在香港申請英國國民(海外)護照
The government has announced a new potential route for BNOs to secure British citizenship, by saying:
"China's National People's Congress has formally announced its decision to impose a national security law on the people of Hong Kong … if China goes down this path and implements this national security legislation we will be required to change the status of BN(O) passport holders and set in train arrangements which allow them to come to the UK for longer than the current six month period and to apply for extendable periods of 12 months to work and study, which itself will provide a pathway to citizenship."
As of 24th February 2020, there was 349,881 holders of BN(O) passports and there are also around 2.9m people in Hong Kong eligible for the passport.
The British National Overseas passport, commonly referred to as the BNO passport, is a British passport for persons with British National Overseas (BNO) status. The passport was first issued in 1987 after the Hong Kong Act 1985, from which this new class of British nationality was created. Holders of BNO passports are permanent residents of Hong Kong who were British Dependent Territories citizens until 30 June 1997 and had registered as BNOs.
The British National Overseas status itself does not automatically grant the right of abode anywhere (including the United Kingdom and Hong Kong). However, all BNOs possess the right of abode or right to land in Hong Kong by virtue of their previous British Dependent Territories Citizen status with connection to British Hong Kong.
Below, You will find a transcript of the video on 'The 7 options Hongkongers have to enter the UK'
Tom:
Hi in this video I'm going to explain the options for residents of Hong Kong including British nationals overseas, those with British national overseas status for securing residency in the UK and I'm going to go through the details of this infographic that I've prepared for you.
So, there's seven main options that I wanted to talk about here and one of them is the potential new BNO route which will only be implemented if China implements its security law and I did a live stream on this yesterday but I wanted to go into a bit more detail. People are already reacting to this situation. I understand in Hong Kong people are wanting to renew their passport. The Asia Times  says according to a recent survey compiled by the centre of communication and public opinion: 37 percent of Hong Kong residents said they have considered leaving the city. The centre interviewed 815 people over the phone after Beijing announced it would imposes national security law. The Asia Times also said that due to the extradition law, the number of possible applications surged up to 220,000 in 2019 which 8.5 times higher the number in 2018 and one imagines that that numbers are only going to go higher. We can only hope that the UK does follow through and do its duty towards the people of Hong Kong.
If you were a toddler at the time and no one applied on your behalf then the regime is required that you be registered and this was actually raised in Parliament earlier this week. We don't know how many people yet are going to be eligible into this new process and in the infographic that I've prepared for you basically explains what the pathway would look like. The details have not been finalized so this is my best guess but it's certainly a route that is very likely to require registration at the end of it.
So, you need to register as a British citizen under Section 40 as a British Nationality Act and you would still need a period of indefinite leave to remain so you need to get indefinite leave to remain and the reason for that is that  the current legislation does require a five year period but you're not subject under immigration laws to any restriction on your stay in the UK in the 12 months immediately before the date of the application and that's reflected in the British Nationality Act. So what that means is that there will be a number of people several million people who will likely not be covered by the new you know British in which I'll talk about as I say the likely regime is all subject to China implementing the new security law but there are a number of other visa options and I do act for clients from Hong Kong.
The first route is the sole representative visa pathway and it is a five year route. Business immigration routes require that you have a genuine business initiative and is not motivated solely by our residency considerations and the sole representative route is for those who are sending in a senior employee to the UK. It's recently been amended. I did a video on this the other day but essentially the restrictions on this route which has been quite challenging for some people is that you it's not for majority shareholders so if you're an owner operator of a business then you're precluded from applying. It needs to be a senior employee that's being sent over. So either you are or your senior employee would set up a branch in the UK. The rules are relaxing around this, so if you're an owner operator and the sole representative comes over they need to be applying for a work visa under tier 2 general and that again is also a five year a pathway to do indefinite leave to remain and citizenship. It is a recognized pathway and there's examples given in a home office guidance around it and I've plenty of case studies that I've been involved in where this can be done.
The other routes is the Start-up and the Innovator route. I've put here the start-up route as the first one so it doesn't lead to settlement in itself but you can switch if you've made significant achievements to the innovator visa. Many of my clients apply straightaway for an innovative as it is easier because they are more experienced entrepreneurs. That's an accelerated pathway so they're looking to attract people who are bringing innovative, viable and scalable businesses into the UK. All you need is the business idea in order to qualify but you do need to validate your idea in the UK market. So if you are purely at the concept stage then there's a higher degree of scrutiny around how you're actually going to implement your business idea. The best way of showing that is if you've already set up a successful business you've got to be bringing something new but I think this is a great option to consider for those who are in the digital space but particularly got the software as a service business or something around that or if your business is going through some kind of digital transformation and you've got to show you know a genuine business idea that's incredible and a business plan as evidence.
The next this route is an Investor visa. I'm doing two of these at the moment for clients and here I think probably the main consideration is what you can actually invest in. So it's it is restricted to UK equity so you've got to be investing in shares or corporate bonds. You can't simply invest in government bonds because your funds have got to be at risk simply because there's no benefit to the UK economy really of someone buying on government bonds but they can go into a portfolio that is designed to minimise risk you know even in the current climate. I work with a portfolio adviser who has a portfolio that's performed better than many other funds during the the current volatility around the Corona crisis. If your funds do dip then as long as you've invested the qualifying amount at the beginning of the period then your immigration status is not affected by the value of the shares dips below the qualifying amount. Whether it's two million, five million or ten million, the amount you invest in these routes provide different accelerated pathways to settlement.
The other route is the Global Talent visa. I've spoken with a lady a couple of days ago and I'm going to do a video about this in which the client recently got the new global talent visa and I'm just going to share the details of our story but watch what she did is she had a successful internet business and she came as a student to the UK and then through doing that she qualified under the business criteria for global talent within the technical sub category. What I thought was really interesting was she didn't have the technical skills but she qualified as an entrepreneur because of the innovation that she'd shown in her existing company but also in the innovation she's shown in the market research that she'd done in the UK. But the Global Talent is a tough route, it's not everyone's cup of tea but it it's definitely worth considering among your options.
So those are the seven routes for settling in the UK as I say there are a number of people who will not likely meet the required status. Nevertheless, as I mentioned in my last video if you have any questions or you'd like guidance feel free to contact me for a consultation. My details have are below and for legal advice and assistance please email. It's important that you take advice on your individual circumstances. If you're not sure whether someone applied on your behalf or you've lost your passport and fill out a subject access request form. I hope that's helpful. Thanks so much for your time and I look forward seeing you tomorrow, bye for now.