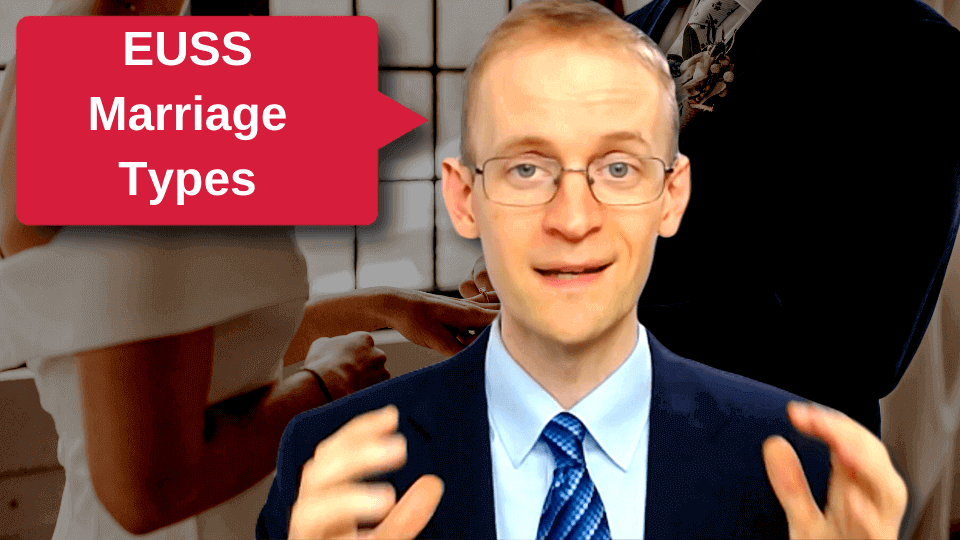 EUSS applications and proxy marriages
The law of the United Kingdom does not allow for marriages to be contracted in this
country either:
• with one of the parties represented by an appointed proxy; or
• where the proceedings are conducted over the telephone
However, the laws of certain other countries can recognize either form of marriage
as valid where they are contracted in that country. Where the local law does permit
marriage either by proxy or telephone and the proceedings of any particular marriage
appear to satisfy the requirements of that law then, in accordance with the normal rules
on recognition of foreign marriages (see paragraph 2, above), the marriage should be treated as valid for all purposes of United Kingdom law. Local advice on the local validity of
foreign proxy and telephone should be sought.
📧 I am happy to help with your visa and citizenship options. Please contact me through the details here: https://tom-bradford.com/contact–me/
DISCLAIMER: This video is for general information purposes only and does not constitute legal or professional advice. It should not be used as a substitute for legal advice relating to your particular circumstances. Please note that the law may have changed since the date of this video.
Hi this video is about EU ss applications and proxy marriages um now there have there's been a quite rightly an emphasis on uh sham marriages and ensuring that sham marriages are picked up and that's essentially a marriage in which there's uh an immigration advantage to be gained uh from marriage and uh the relationship in question is not genuine and I think where there can be confusions arising is because of cultural differences for example in some cultures it's uh not appropriate to live together before marriage and I think this can lead to some confusion arising from cultural diff differences in some in some instances of course not in all because if the coupling question hasn't been uh living together that can come up as a red flag from the u's perspective but as I said there could be perfectly good cultural reasons why people have not been uh living together now just to stretch that one additional uh step and I'm going to just share some guidance with you here as well in a moment but the next stage is uh telephone marriages um which from zen perspectives could uh seem had to be uh very difficult to understand if I can put it put it that way from a up perspective now but there again there may be good reasons for that and not necessarily cultural reasons but specifically covet related reasons and so in other words there are examples at the moment where couples have been you know split and they're not able to marry in person or that the marriage that they'd envisaged wouldn't involve uh the family who they would hope would otherwise attend um so a telephone marriage may not may be the only or a preferred um a preferred way of conducting the marriage in certain circumstances in the exceptional world that we're going through now with gaviid so if we just have a look at the law in relations in relation to this so the law of the up does not allow for marriages to be contracted in this country either with one of the parties represented by an appointed proxy or where the proceedings are conducted over the telephone however this is the important point the laws of certain other countries can recognize either form of marriage is valid where they're contracted in that country where the local law does permit marriage either by proxy or telephone and the proceedings of any particular marriage appear to satisfy the requirements of that law then in accordance with the normal rules on recognition of foreign marriages the marriage should be treated as valid for all purposes of up law and that's where you've got to turn to local guidance so what you've got to make sure of is that it would result in a marriage certificate issued by a competent authority in the country in question that would be recognized from the up uh law perspective so that's an absolute you know prerequisite and for that you know you're likely to need to take some local advice and ensure that it's right it would be recognized from up law perspective before you before you go down that route um so yeah so that so that's an important point an important point so in all cases involving uh either proxy marriages uh or telephone marriages um then you'll need to ensure that the marriage certificate that would be produced by the local authority complies with the requirements of local law and also from up law so even though from a up legal perspective a marriage would not be conducted by either telephone or proxy would not be recognized as valid from up law perspective it may be that it would be recognized as valid from the foreign law perspective and therefore the up would need would have to have to recognize it now there's a separate stage after that which is whether it's a um you know whether it be treated or viewed as a sham marriage now for that you know an investigation is triggered if there are certain red flags and those could be linked to the uh country in question or perhaps the date of the application if you're applying perhaps soon after getting married um there is a risk assessment um uh carried out I don't endorse any of the you know factors that are necessarily taken into account but uh but they did they do have a risk based uh approach and if they a target um if they target you for an investigation then um then they the fact that you have had either a proxy or telephone marriage could may well be a very important factor uh now as I say there may be good reasons for that whether they be cultural related or coved related and that's why I think you should be ready uh if you're to go down that very exceptional you should be ready to be able to uh explain that and to be able to speak to the genuineness of your relationship uh and um and Kate as I say for that audience where from a up perspective the arrangement may not seem normal from the point of view of uh up uh cultural norms um so needless to say all of these masses are important and they're all matters on which you should take legal advice this information is just for general information purposes and does not itself constitute legal or professional advice I hope I hope that's helpful as a point to flag thanks so much stay safe bye for now